This post was contributed by Taylor Livingston. Taylor has worked as a seasonal park ranger for the Indiana Dunes National Park. She grew up recreating along Indiana's Lake Michigan shoreline.
Have you ever wanted to explore natural places in a new and unique way? I found an exciting new outdoor adventure in an unexpected place - my own backyard. This October, I participated in the Indiana Dunes Outdoor Adventure Festival. There were a wide variety of appealing activities to choose from, but I knew right away which one was for me. Remote camping and backpacking have always intrigued me. I want to visit amazing, far-flung places carrying all that I need for my adventure right on my back. I have not done it yet, though. And the Indiana Dunes Outdoor Adventure backpack event offered me the opportunity to give it a try. Having two REI experts, Avi and Mark, leading the way and teaching us as we went was a huge bonus. An opportunity for me to do something I have always wanted to do and learn from the best along the way? Sign me up!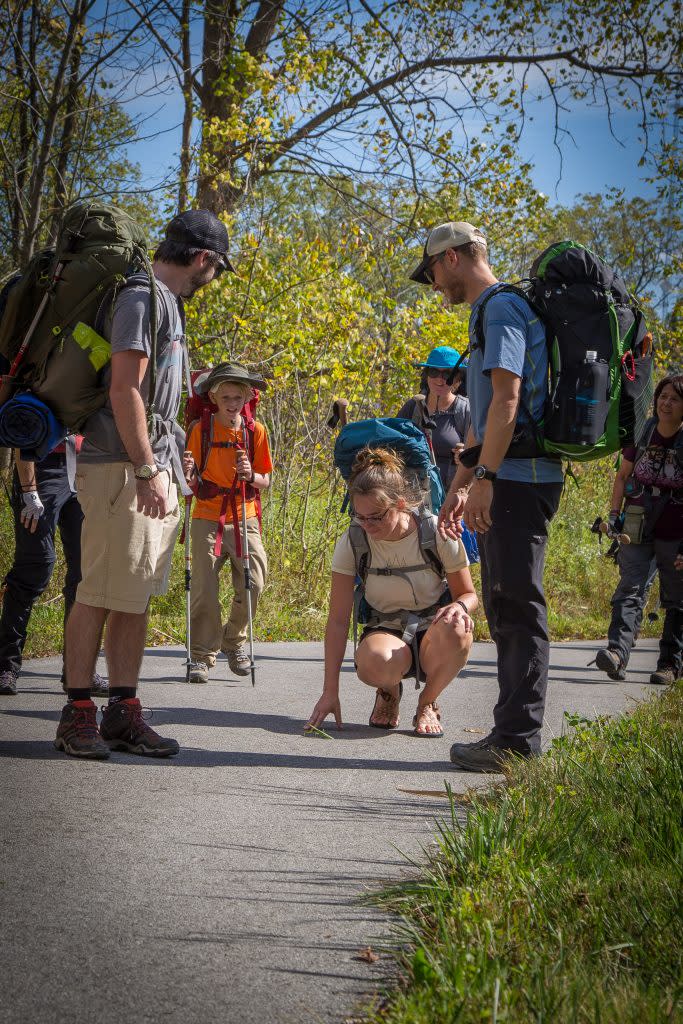 - I enjoyed taking in even the little things along the trail.
We started our journey at the Visitor Center, learning about lightweight backpacking equipment, how to pack efficiently, and the best food to take along. We headed out midday on the 6+-mile hike from the Indiana Dunes Visitor Center along the Dunes Kankakee Trail, through the Indiana Dunes State Park, and to Indiana Dunes National Park Dunbar Beach. There is a new group backpacking campsite (still reserved for special events and groups at this writing) at Dunbar that everyone was excited to try.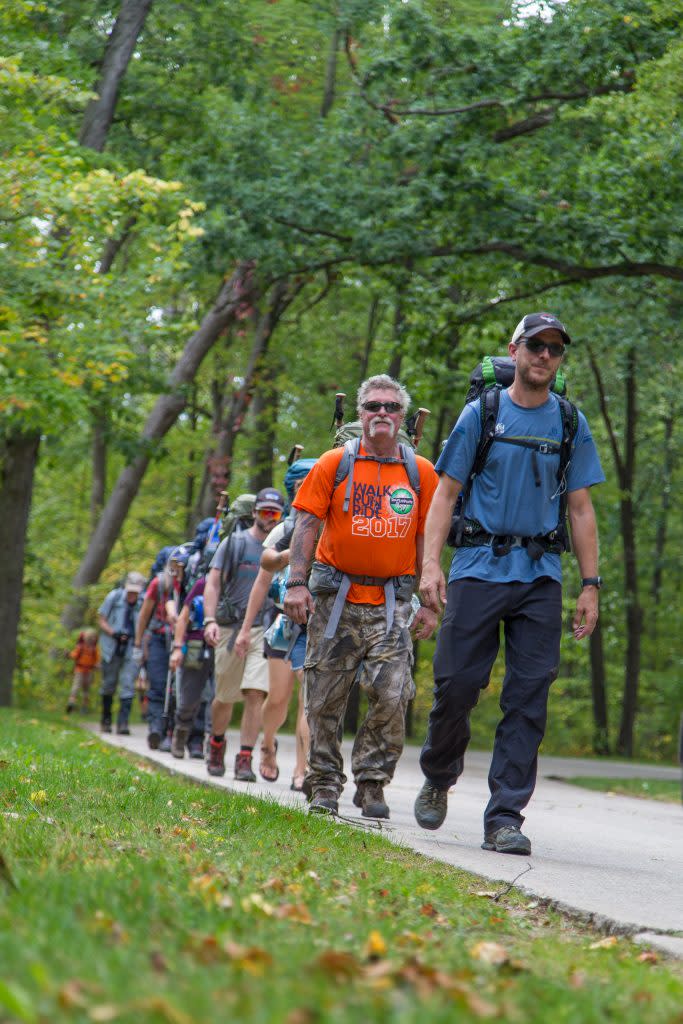 - Our group hiking through the Indiana Dune State Park led by Mark.
I know the Indiana Dunes pretty well. I grew up hiking and beaching along Indiana's Lake Michigan shore. But I had never taken this particular route before. It was beautiful.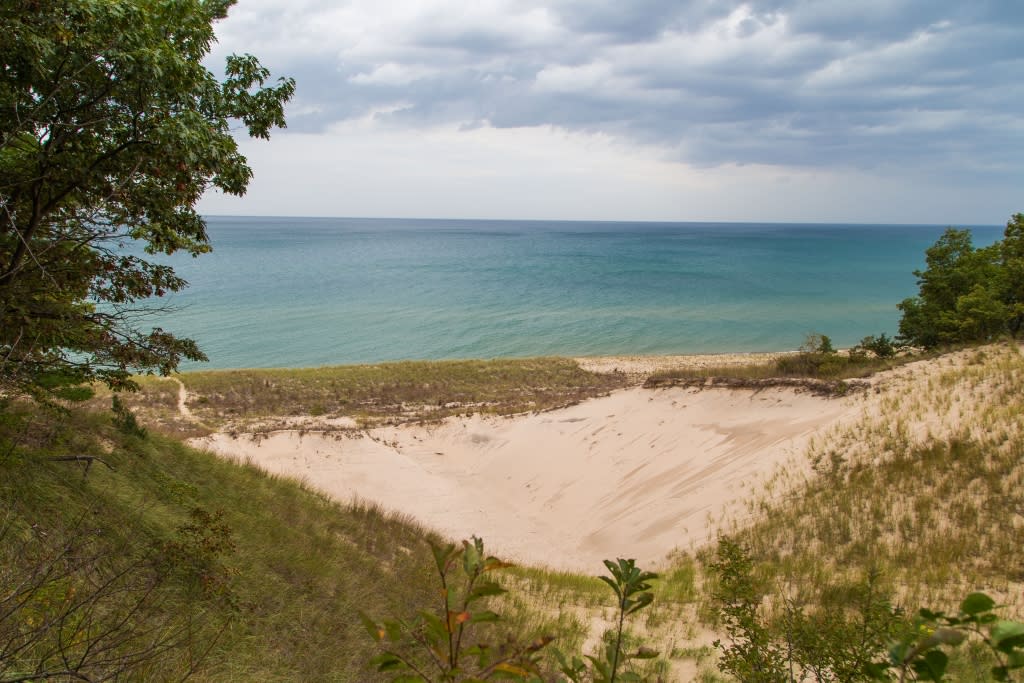 - A dune blowout and a great view of Lake Michigan from one of the ridges.
Once we got into the park, we enjoyed walking through woodlands, along dune ridges, around wetlands, and, of course, taking in the amazing views of Lake Michigan before we dropped down to the beach for the last leg of the adventure. As we got closer to our site, we could see a storm brewing behind us. We picked up our pace, but we didn't quite outrun the storm.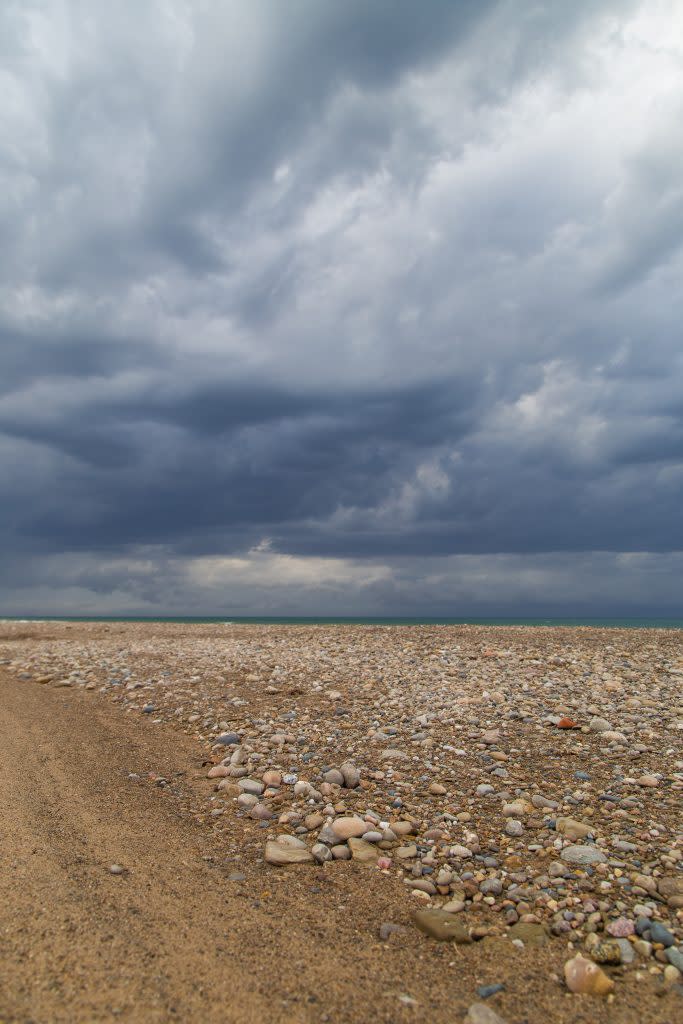 - The storm rolling in behind us.
We hurriedly got into waterproof gear, but not before we were all a little wet and then sandblasted from the high winds blowing the sand as we walked along the beach toward camp. It was exciting!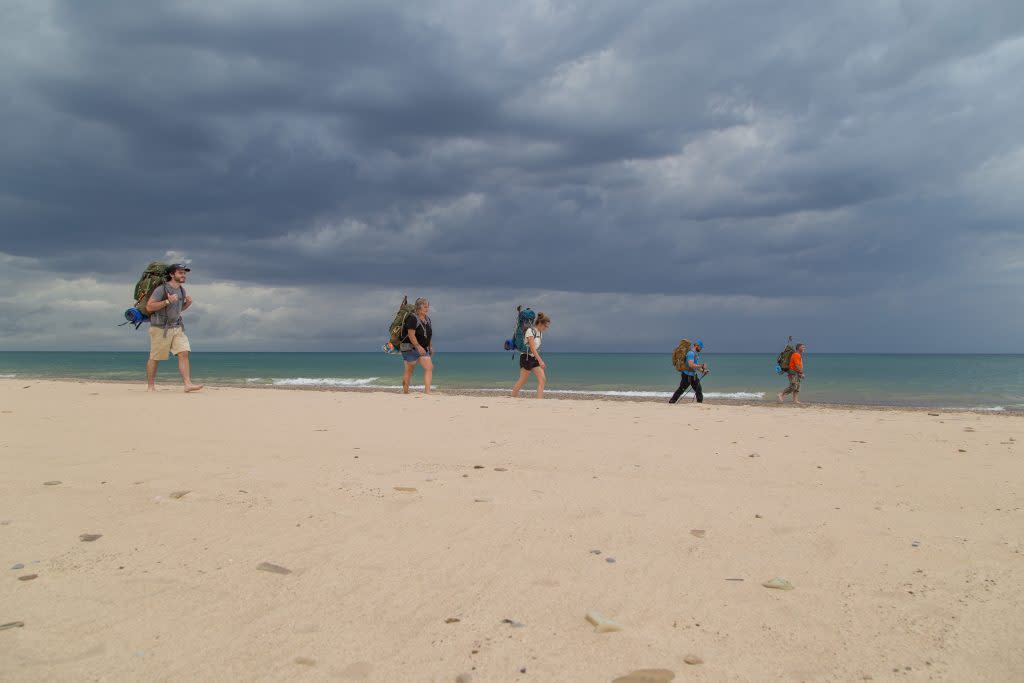 - Here we are just before the rain and wind.
When we arrived, the storm lulled for just long enough to set up camp and enjoy the already raging fire that the rangers provided.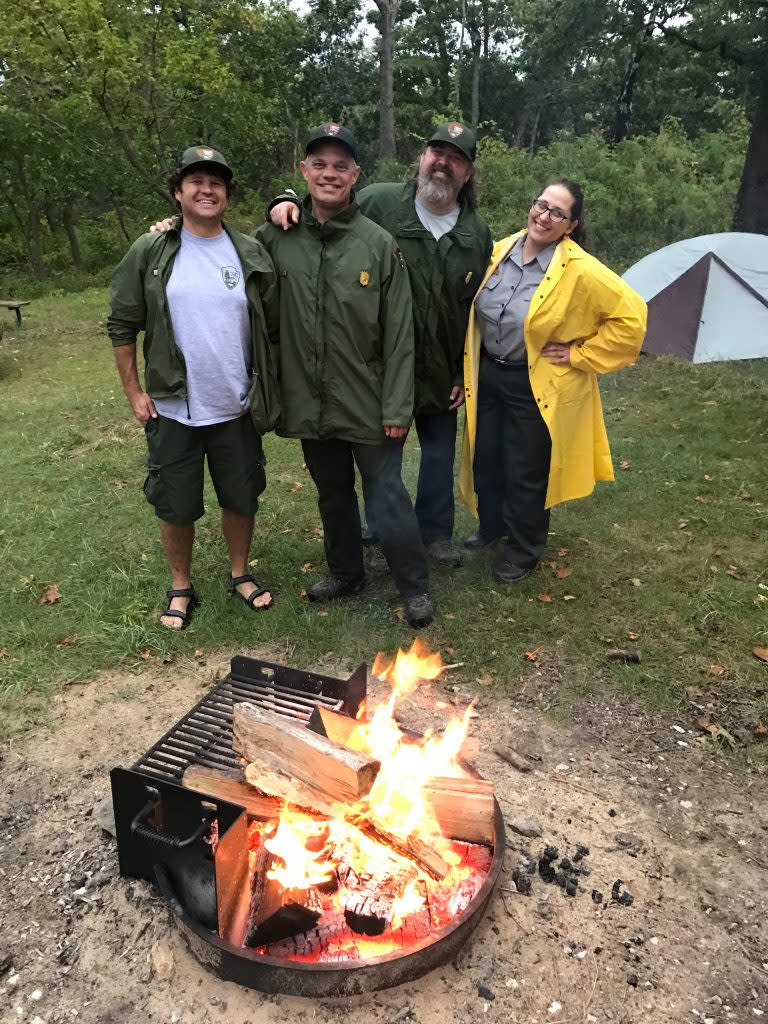 - Indiana Dunes National Park staff really helped out.
I have to admit there was an aspect of glamping to this backpacking trip. The rangers generously constructed a shelter and had the blazing fire going when we arrived. Plus, having a park bathroom nearby was nice. We were all very grateful.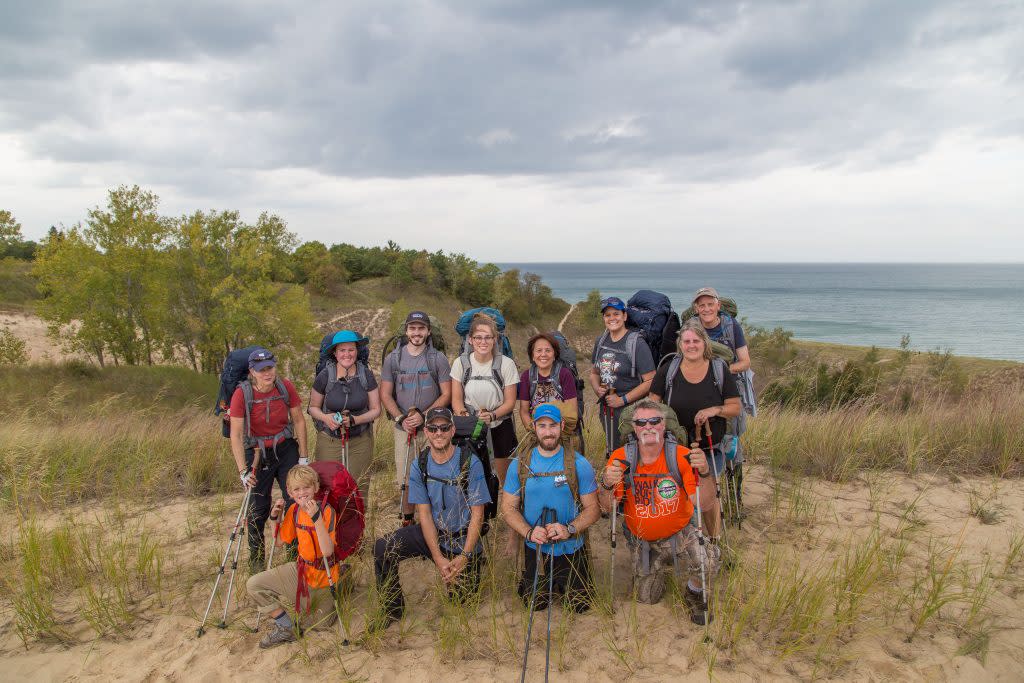 - This is the whole group after hiking up one of the biggest dunes.
After hiking 6+ miles through the dunes (and getting pretty wet), we were all anxious to eat. REI provided us with SO MUCH incredible food for our backpacks. For dinner, I indulged in rehydrated beef stroganoff. It tasted better to me than most of the meals I eat at home. Desert was an incredible salted caramel chocolate bar. We were all very hungry and the food tasted fantastic. After the freeze-dried feast, we were all incredibly tired so, we dried off by the fire and then hit the hay to rest up for the return trip the next morning.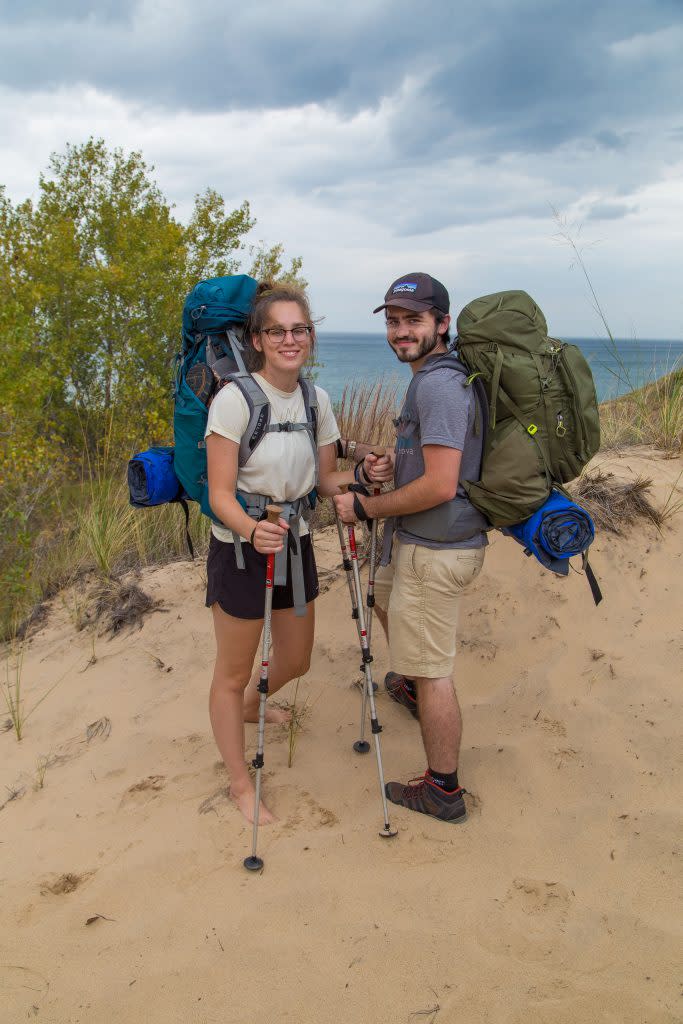 - Nate and I enjoying the Lake Michigan views from a high dune.
What a great event! I enjoyed the two days of hiking and camping. Plus, I learned so much about backpacking that I now feel confident enough to get out and explore nature on my own... with all the supplies that I need right on my back.
The Indiana Dunes National Park, State Park, Tourism and other participating groups organize the Indiana Dunes Outdoor Adventure Fest annually. The fest offers a wide range of events. Look for it each October. If you can't wait, two great campgrounds are perfect for any outdoor adventure; Dunewood (first come first served) and the State Park Campground (by reservation). Or check to see if any REI events coming up in the dunes.