Monarchs: Crossing Those Lines
by Alyssa Nyberg
This past September upwards of 2,000 monarchs congregated on the oak trees growing atop the dunes at the Bison Viewing Area. The monarchs roosted in the trees for several days before they continued on their long journey to their overwintering location in Michoacan, Mexico.
For many years we have known that Kankakee Sands is an important migratory stop-over site in the spring and fall for migrating birds who need a place to rest and refuel before continuing on to their destinations. And we now know that it also serves as a migratory stop-over site for monarch butterflies, too. How thrilling!
In the spring, monarchs will return to Newton County, typically around mid-April. Many will continue on to breeding grounds north of us, but some monarchs will stay in the area for the summer. While here, the monarchs will mate, lay eggs, grow into caterpillars that eat milkweed leaves, and pupate into adult butterflies that nectar on wildflowers. Then in the fall, they will join other monarchs from across the Midwest to make the journey south back to Mexico.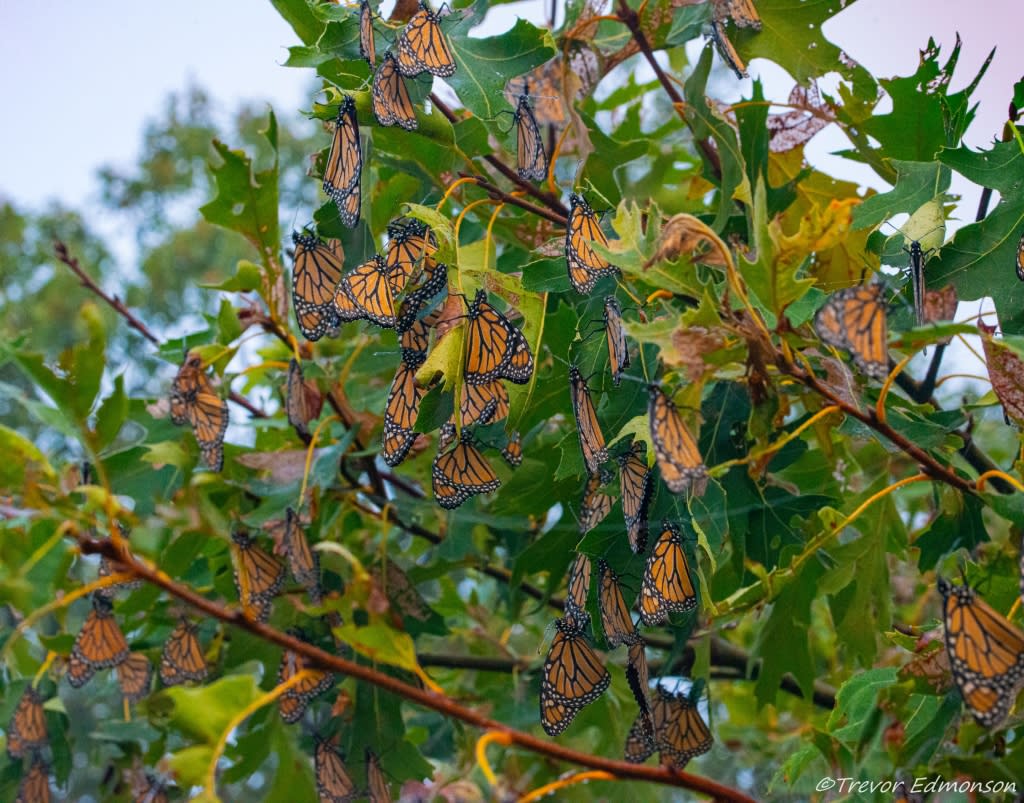 Monarchs at Kankakee Sands - Trevor Edmonson
The monarch butterfly is such a good example of how conservation can and should work across boundaries and borders. Plants and animals don't read maps and don't know where one township, county, state, or even country ends and the other begins. They simply fly, slither, hop, and mosey to places that provide what they need to survive—food and shelter, and a mate in mating season. Our conservation work is so much stronger when we work across geopolitical boundaries; it allows us to support many more species, especially those that move long distances over the course of one year, like sandhill cranes, migratory songbirds, short-eared owls, and monarch butterflies.
Connecting and conserving acres across townships within a county can be exceptionally meaningful. In Newton County alone, we have more than 20,000 acres of natural habitat protected by the Indiana Department of Natural Resources, The Indiana Chapter of The Nature Conservancy, and NICHES Land Trust.
If you jump across the Indiana/Illinois state line, you'll find even more conservation work by the Illinois Department of Natural Resources, US Fish and Wildlife Service, Friends of the Kankakee, and the Illinois Chapter of The Nature Conservancy, racking up 10,000+ additional acres.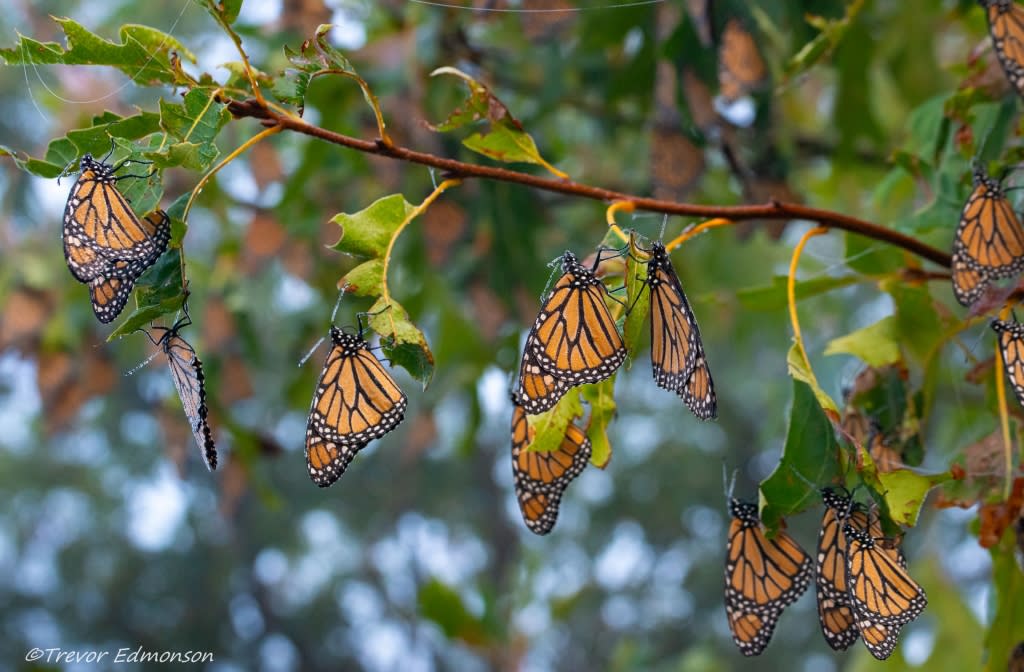 Monarchs Roosting at Kankakee Sands - Trevor Edmonson
This winter, consider crossing those township, county, or state lines and visiting some of our local natural treasures. Below is a listing of special places that are owned and managed by conservation organizations. They're all free, open to the public, within an hour's drive of Kankakee Sands, and have walking trails. As always, when visiting a natural area, please remember that you are a guest. Make an effort to leave the preserve better than you found it—simply removing sticks from trails and/or picking up garbage is a great way to lend a hand.
A quick google search on the name of the property and the owner will turn up a website with detailed information about the site and location information. Wander the websites and learn about the conservation work being done in partnership. Together, together, together. It's really the only way.
Cressmoor Prairie, Lake County (IN), 40 acres – Shirley Heinze Land Trust
Fisher Oak Savanna, Jasper County (IN), 265 acres – NICHES Land Trust
Holley Savanna, Newton County (IN), 80 acres – NICHES Land Trust
Hooper Branch Savanna Nature Preserve, Iroquois County (IL), 550+ acres – Illinois DNR
Jasper-Pulaski Fish and Wildlife Area, Jasper & Pulaski Counties (IN), 8,100 acres – IN DNR
Kankakee River State Park, Kankakee County (IL), 4,000 acres - Illinois DNR
Pembroke Savanna, Kankakee County (IL), 85 acres - The Nature Conservancy
Prophetstown State Park, Tippecanoe County (IN), 2,000 acres – Indiana DNR
Willow Slough Fish and Wildlife Area, Newton County (IN), 10,000 acres – Indiana DNR
Happy New Year and Happy Hiking!
______________________________________________________________________________
The Nature Conservancy's Kankakee Sands is an 8,300-acre prairie and savanna habitat in Northwest Indiana, open every day of the year for public enjoyment.  For more information about Kankakee Sands, visit www.nature.org/KankakeeSands or call the office at 219-285-2184
Photo credit: Trevor Edmonson, Kankakee Sands Project Manager, photos of the monarchs roosting at Kankakee Sands