Diana of the Dunes Dare
Dare to Be Different? Embrace the Dunes.
In honor of the daring and free spirit of Alice Mabel Gray, also known as Diana, a nearby sand hill has been named "Diana's Dune." You can now hike in a local legend's footsteps at Indiana Dunes National Park's West Beach. Explore the natural wonders of her beloved Dunes terrain while learning about dune development.
In 1915, Alice Mabel Gray left her conventional life in Chicago to settle in a crude shack along Indiana's wild Lake Michigan shore. Here, she became known as Diana of the Dunes—a legend in…
Follow this National Park trail to learn about the four stages of dune development within its one-mile length. Access it from the parking lot or the path beginning at the beach. This scenic…
How to Complete the Dare
Go to West Beach
Visit Indiana Dunes National Park's West Beach, located off U.S. Highway 12, at 376 N. County Line Rd., Gary, IN 46403.
Hike the Trail
Dare to Be Different? Then step into the past and embrace the Dunes. Walk in Alice Mabel Gray's (Diana's) footsteps while learning about Dune Succession.
Share Your Dare
Stop at the West Beach Bathhouse to take a selfie in front of our Diana of the Dunes selfie station and post using #DianaDunesDare.
Get Your Badge of Honor
Visit either the Paul H. Douglas Center or the Indiana Dunes Visitor Center for a free sticker.
Celebrate Your Accomplishment
Stop by the Indiana Dunes Visitor Center or the Paul H. Douglas Center to get your free Diana of the Dunes sticker.
You can also buy a T-shirt or hoodie—you've earned it!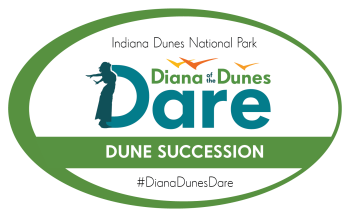 This project was created in collaboration with our amazing partners.
Another Amazing Trail at the Indiana Dunes.
3 Dune Challenge
Challenge friends, family, and yourself to an epic climb up the three tallest sand dunes at Indiana Dunes State Park. It's 1.5 miles of tough trail with 552 vertical feet that's 100 percent brag-worthy.