Whether you're looking for a leisurely stroll through the woods or a calorie-burning hike up steep dunes, the Indiana Dunes area has the perfect hiking trail for you. The Indiana Dunes National and State Parks have a combined 70 miles of trails crossing 17,000+ acres of woodlands, dunes, prairies, and wetlands. Beyond the two big parks are hundreds of acres of local preserves, community parks, and multi-use trail systems. The Indiana Dunes area really is a hiker's dream.
Here are fifteen of our favorite hikes for you to try the next time you want to enjoy the great outdoors:
The 3 Dune Challenge - Indiana Dunes State Park
1600 N. 25 East, Chesterton
https://www.youtube.com/watch?v=Hfo3nJyldHQ
Challenge yourself, your friends, and your family to climb three of the tallest sand dunes at Indiana Dunes State Park. The 1.5-mile trail is the toughest in the park, with 552 vertical feet to climb. The reward: breathtaking views and the title of Dune Conqueror. The self-guided hike begins at the Nature Center and is completed each year by people of all ages. Take plenty of water and be realistic about your abilities. If you get tired, stop for a rest or take a shortcut back to the Nature Center. And don't forget to share your #3DuneChallenge adventure with us on social media! Find us @IndianaDunes on Instagram and Twitter.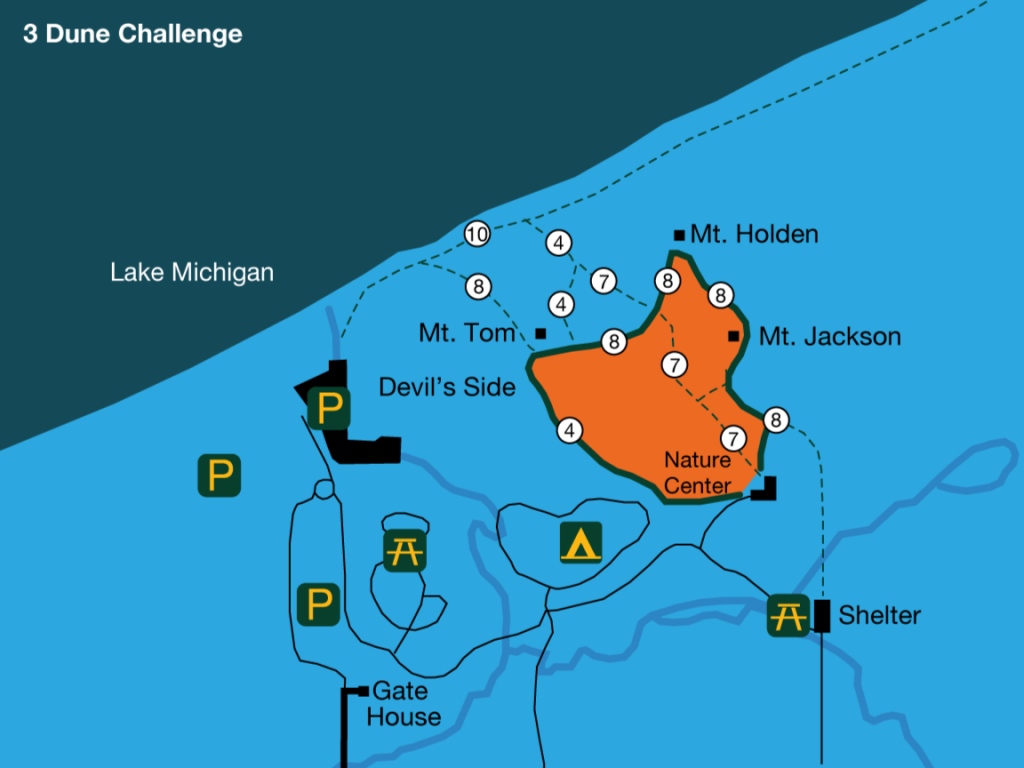 ---
Coffee Creek Watershed Preserve
2401 Village Point, Chesterton

This five-mile trail system provides the chance for a fast hike, leisurely walk, or even some great cross-country skiing in the winter. A popular spot for photography, the preserve features wooden boardwalks, creek overlooks, bridges, and beautiful landscaping. The 157-acres showcase a stunning mixture of nature and architecture.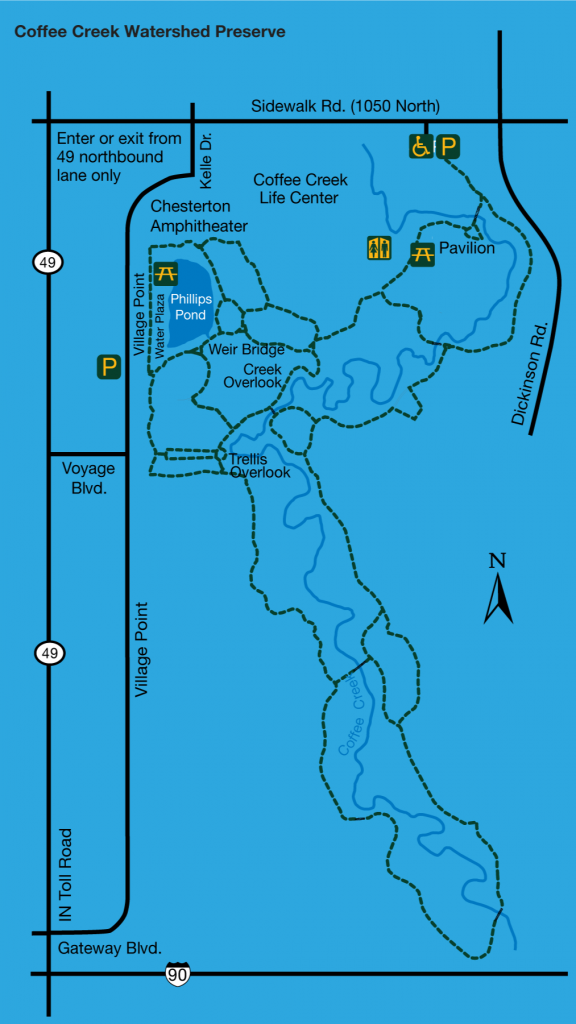 ---
Cowles Bog - Indiana Dunes National Park
1618 N. Mineral Springs Rd., Porter

Embark on the 4.5 miles of interconnected trails at Cowles Bog. You can choose a short, moderate hike through wetlands, a longer hike into the forested dunes, or a challenging excursion all the way down to the shoreline. Cowles Bog is known for its outstanding plant diversity. It was designated a National Natural Landmark in 1965.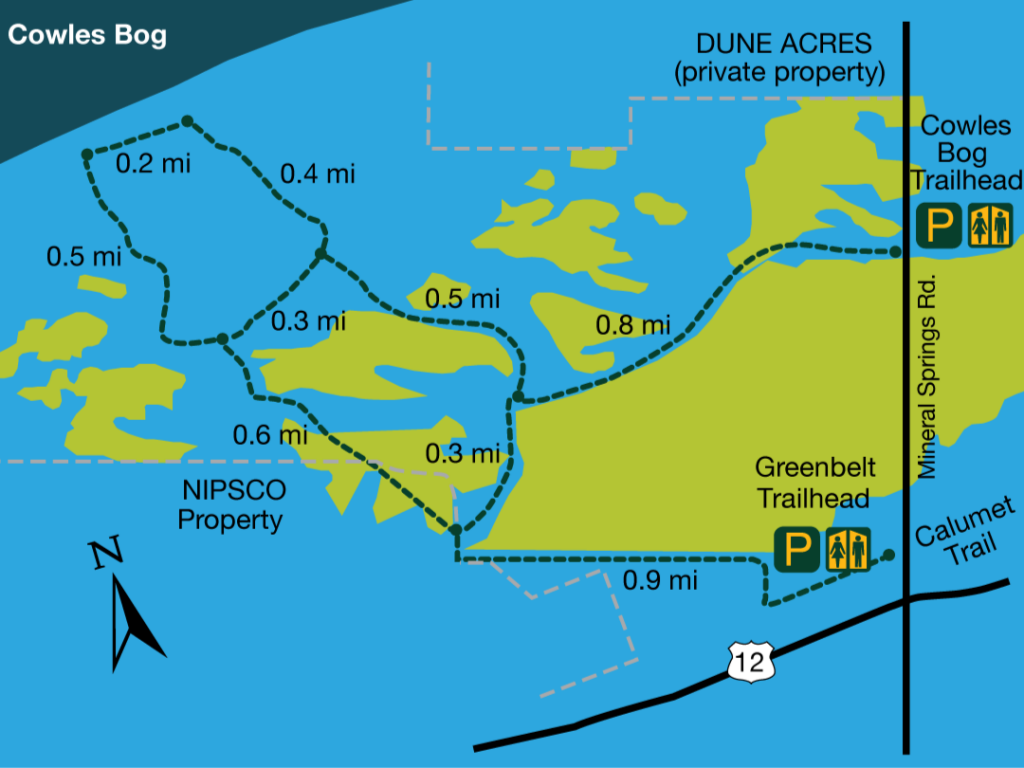 ---
Deep River County Park
9410 Old Lincoln Hwy., Hobart
Deep River County Park offers a mix of history, natural beauty, and pure fun within its 1,200-acre site. Park visitors can explore Wood's Grist Mill and the neighboring Deep River Visitor Center, housed in a 1904 church. Trails lead from here to lovely natural areas throughout the park.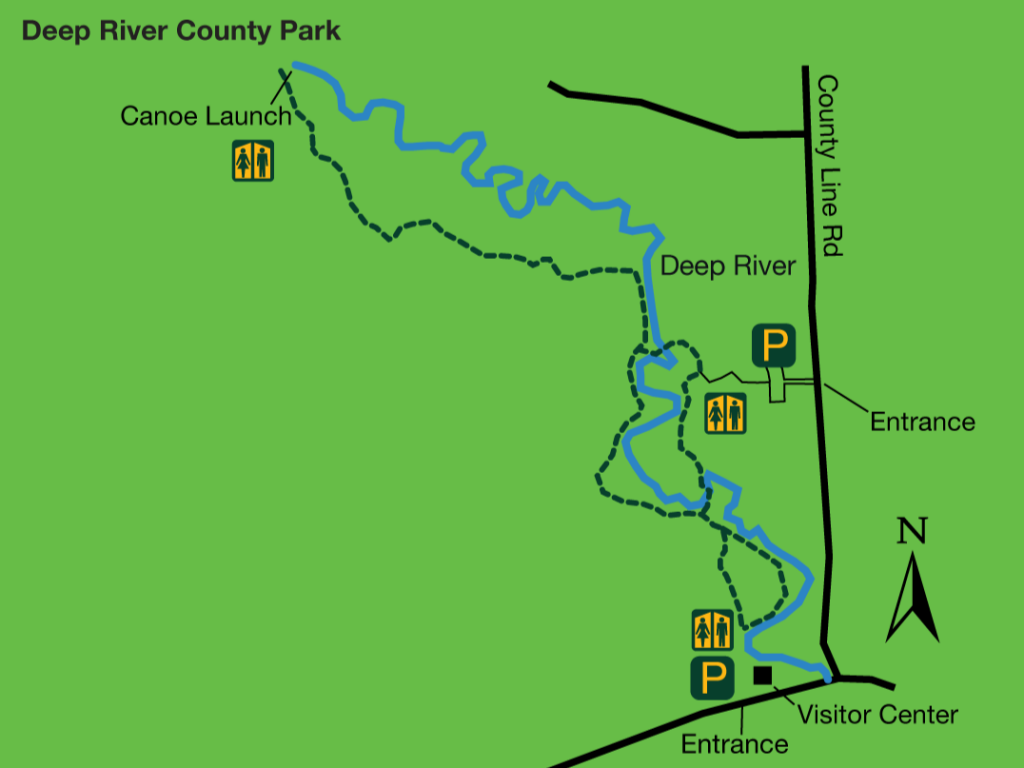 ---
Gabis Arboretum at Purdue Northwest
450 W. 100 North, Valparaiso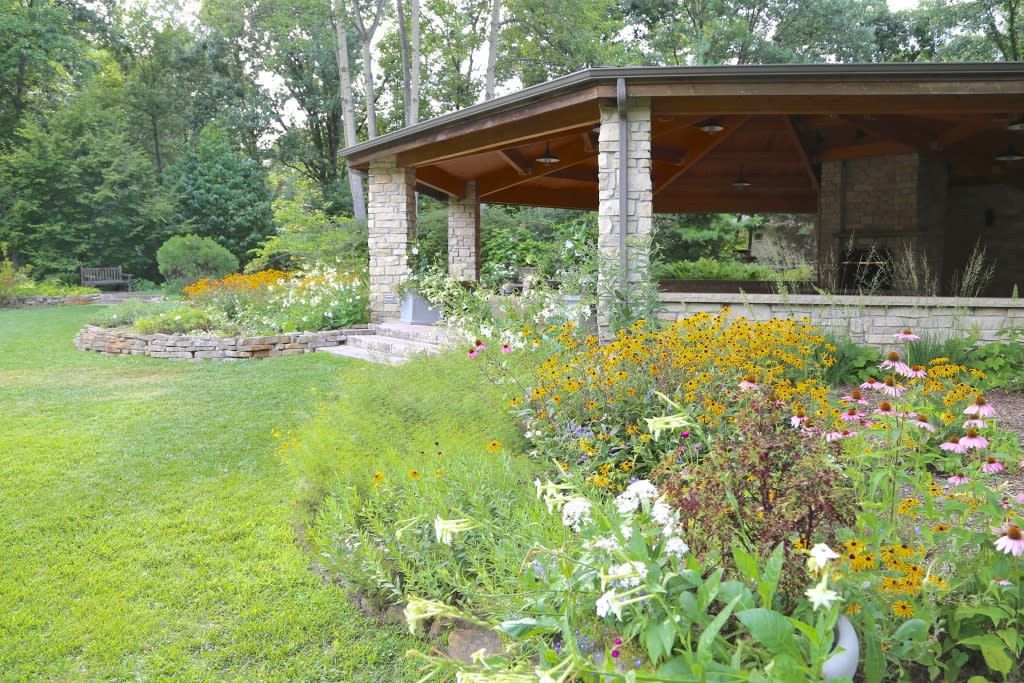 Situated atop the Valparaiso moraine, Gabis offers more than 300 acres of woody plant collections, formal gardens, wetlands, woodlands, and prairies. Originally named Taltree Arboretum & Gardens, its founders envisioned Gabis as a place where people could come to be refreshed and restored, find inspiration and creativity in nature, and learn about horticulture and ecology.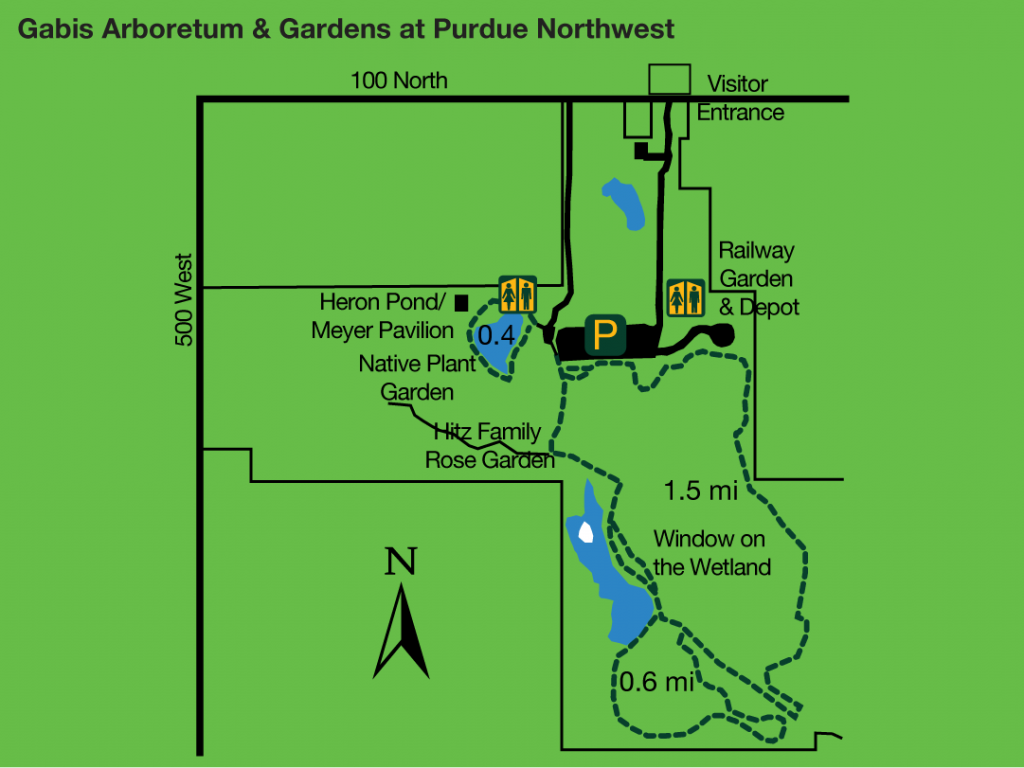 ---
Glenwood Dunes Trail - Indiana Dunes National Park
1475 N. Brummitt Rd., Chesterton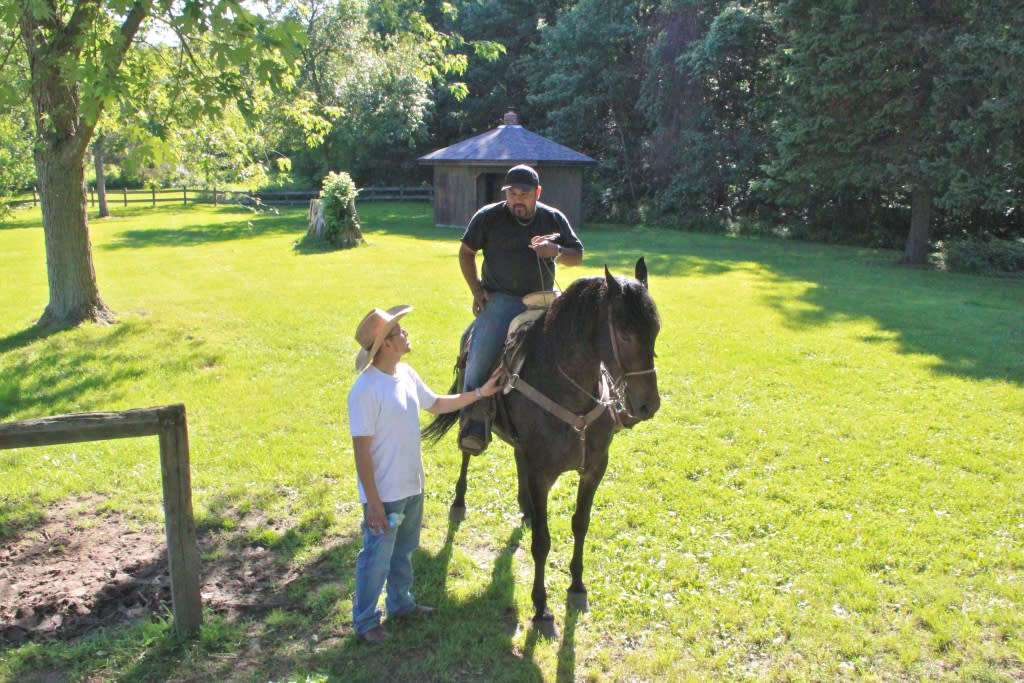 Formerly called "Ly-co-ki-we" which is said to mean "sandy ground" in the Miami Indian language, you can guess what you'll encounter on this 6.4-mile trail. Several cutoff trails offer shorter loop alternatives. The main trail crosses ancient beach dunes, which mark the shores of an earlier and larger version of Lake Michigan.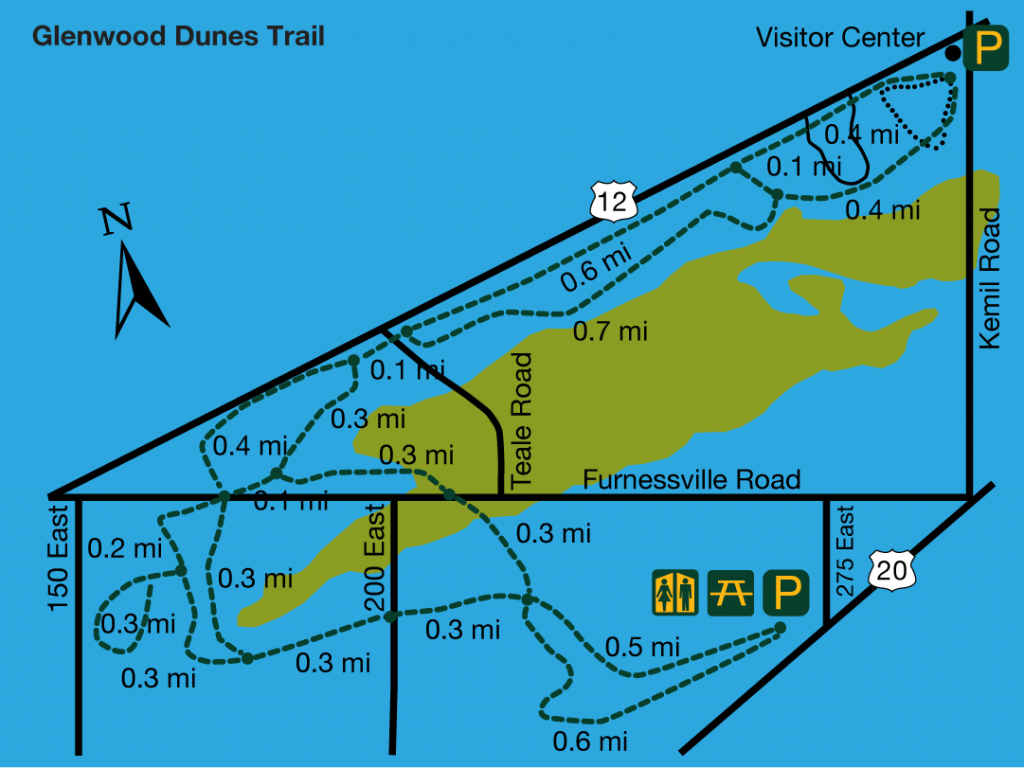 ---
Imagination Glen Park
2275 McCool Rd., Portage

The largest park in the Portage Park system, 256-acre Imagination Glen Park is home to the 10-mile Outback Mountain Bike Trail. Woodlands cover much of the property, with Salt Creek meandering through the center. The park contains a unique and uncommon community of plant species. Salt Creek has not been channelized, so it offers a natural habitat for aquatic plants and animals.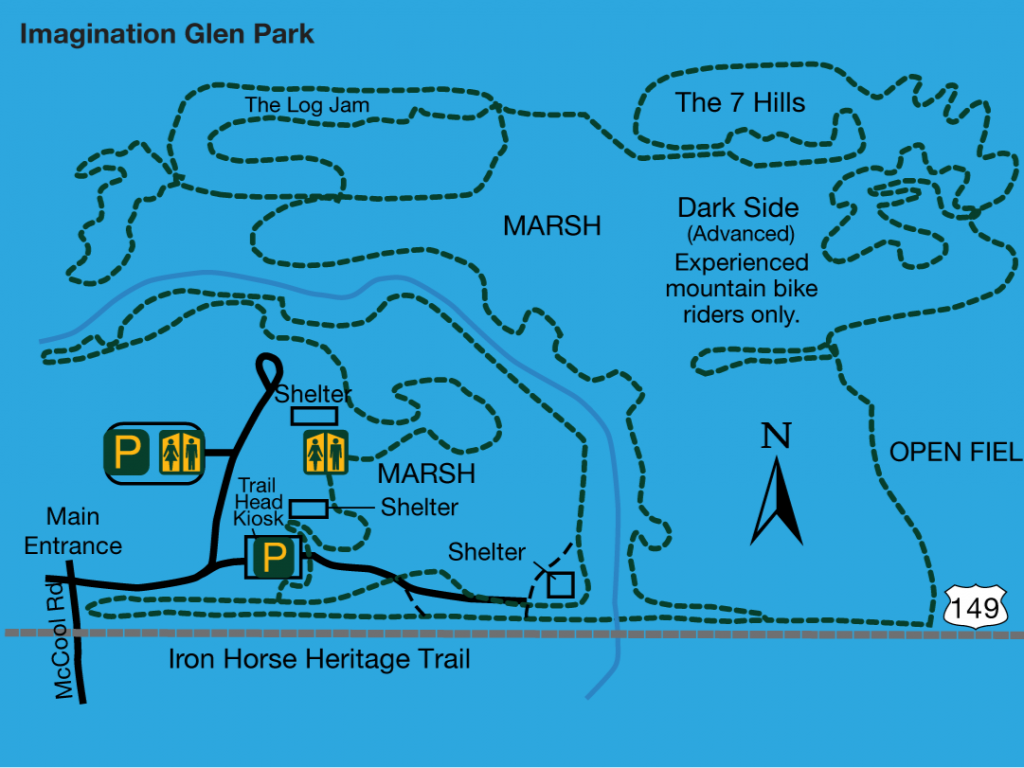 ---
Little Calumet River Trail - Indiana Dunes National Park
401 Howe Rd., Porter

The Little Calumet Trail, located in the Indiana Dunes National Park, is part of a 3.9-mile network of hiking trails that connect the Bailly Homestead, Chellberg Farm, and the Dunes Learning Center. The trail passes through 120 acres of restored tallgrass prairie—a once-widespread habitat, now rare in Indiana, then skirts the Little Calumet River valley and crosses the river. Follow a boardwalk through wet bottomlands before climbing to a hardwood forest and pine plantation.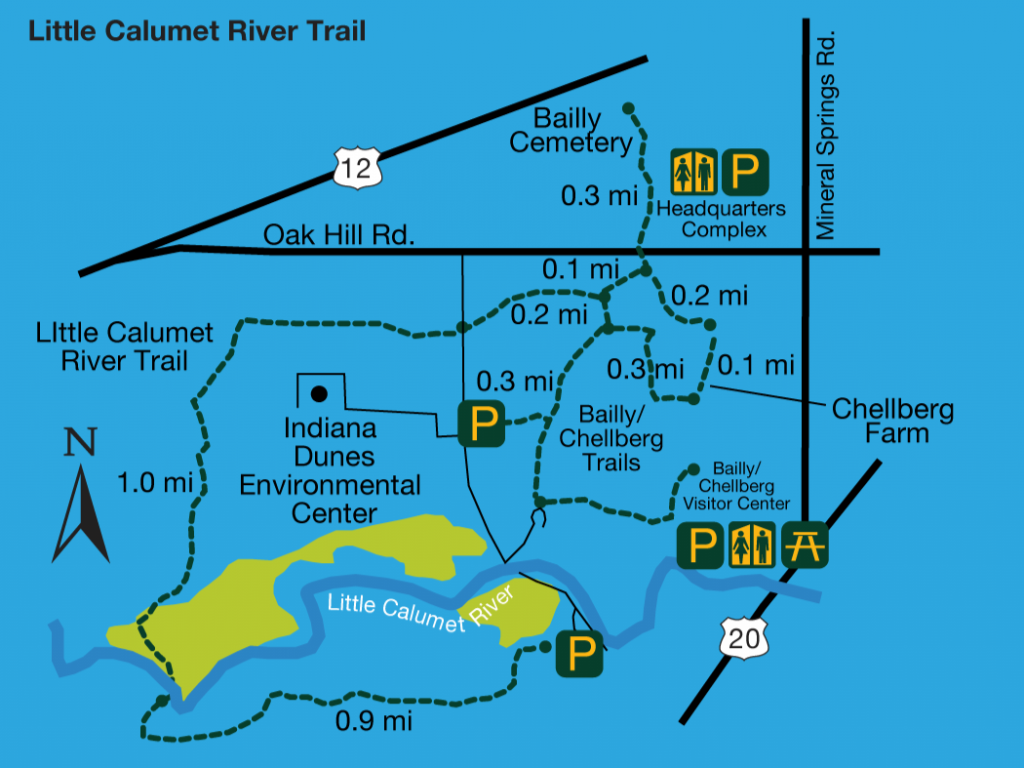 ---
Paul H. Douglas Trail & Miller Woods - Indiana Dunes National Park
100 N. Lake St., Gary

Black oaks dominate savanna woodlands that are home to 287 recorded species of plants and animals. Ecologist Henry Cowles spent much time studying the Miller Woods area. Hike or ski the 1.1-mile Miller Woods loop trail, which leads past an overlook of a marsh that teems with wildlife, including rare blue-spotted salamanders and western chorus frogs.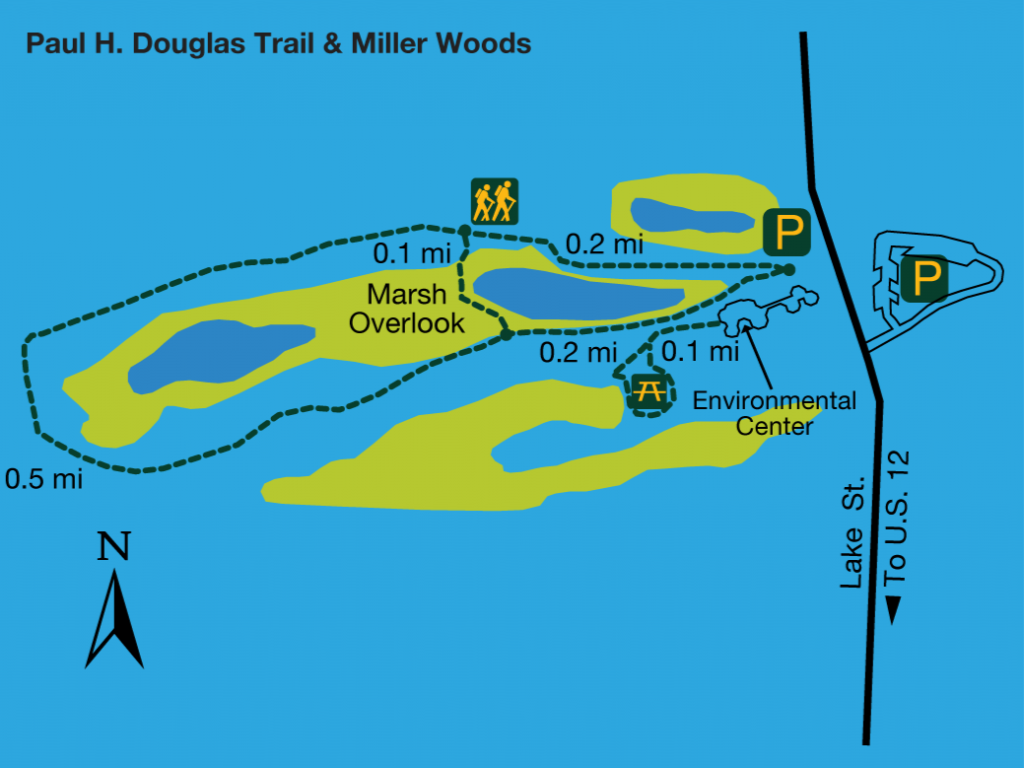 ---
Red Mill County Park
0185 S. Holmesville Rd., LaPorte

Part of the La Porte County Parks system, this park encompasses 160 acres of forests, meadows, wetlands, and open water, including the headwaters of the Little Calumet River. The park also includes a 108-acre nature preserve with 2.5 miles of hiking trails that traverse the preserve's varied habitats. In spring, watch for spotted coralroot, a delicate orchid that grows in the oak woodlands here.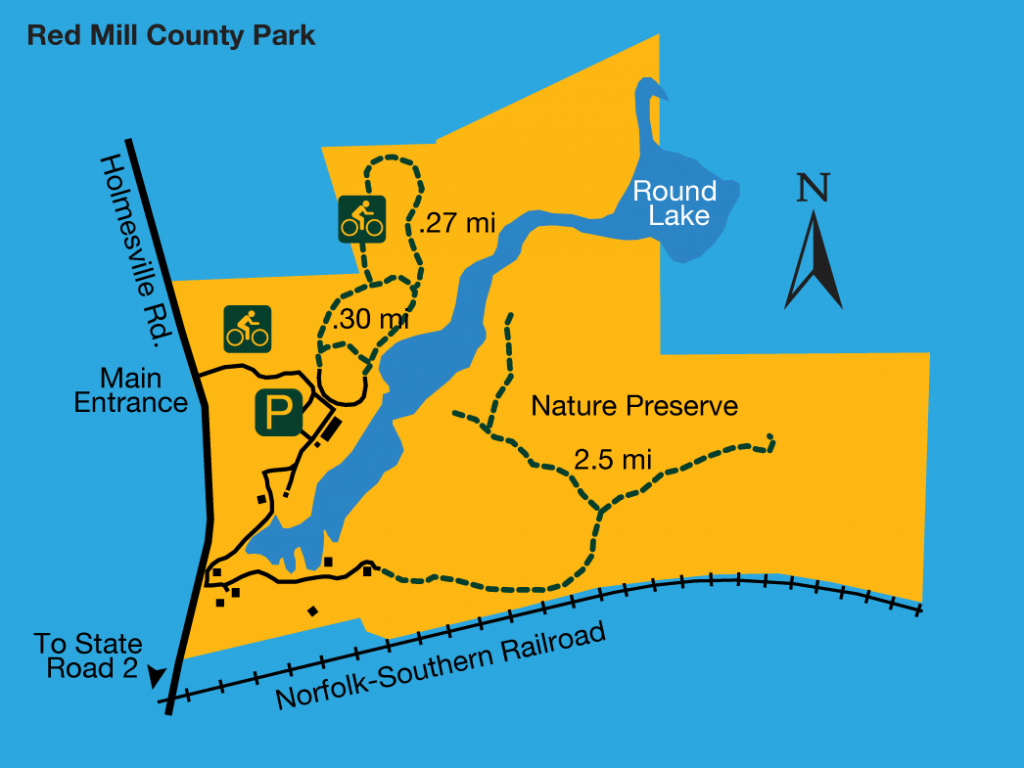 ---
Rogers-Lakewood Park
5320 N. Meridian Rd., Valparaiso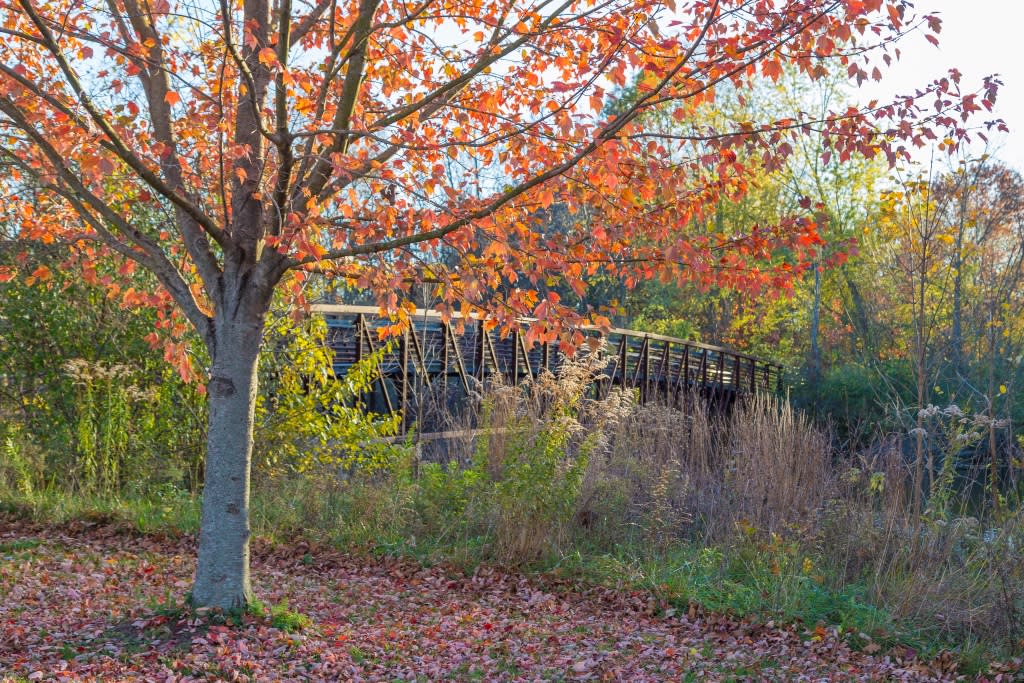 Nestled on 122 acres of rolling woodlands on Valparaiso's northwest side, this park offers picnic pavilions, a sledding hill, a disc golf course, and a skateboard park. The rolling terrain and size of this park make it a great destination for nature enthusiasts.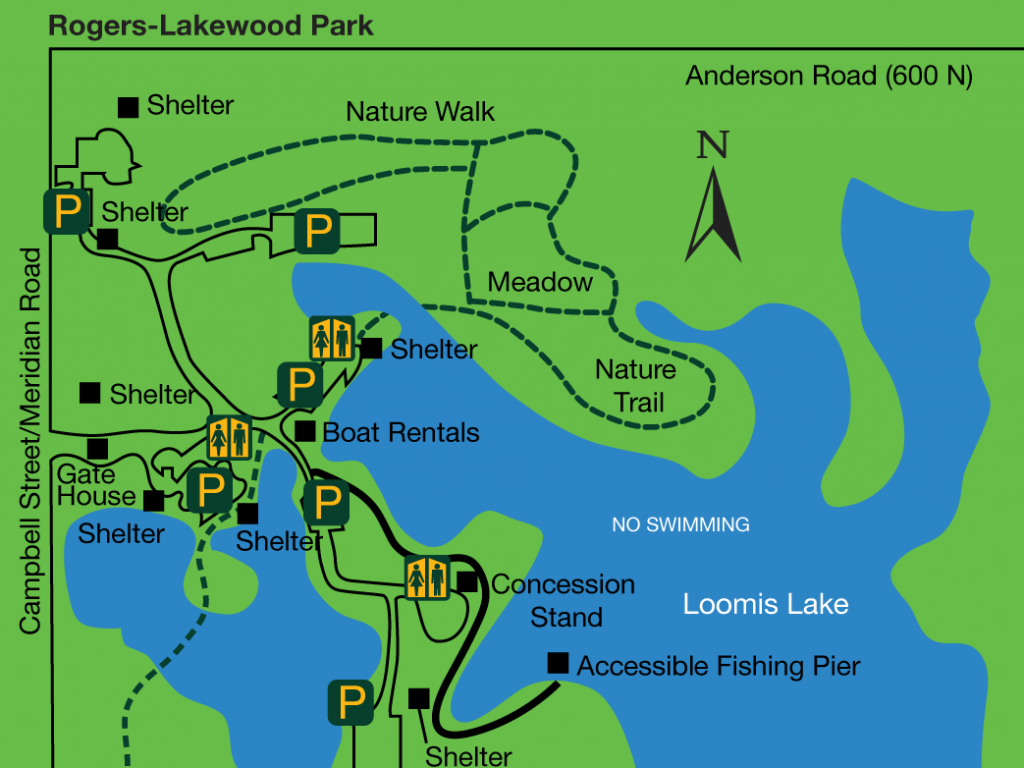 ---
Stoney Run County Park
9230 E. 142nd Ave., Hebron

Stoney Run County Park encompasses 316 acres of oak-hickory woodlands, ponds, ravines, and open meadows. Visitors can picnic by the water and hike or ski on eight miles of trails. A trail around the park's perimeter is open to horseback riding. The park's Vietnam Veterans Memorial honors U.S. citizens who fought in the Vietnam War and pays tribute to the 261 Lake County servicemen who died during that conflict.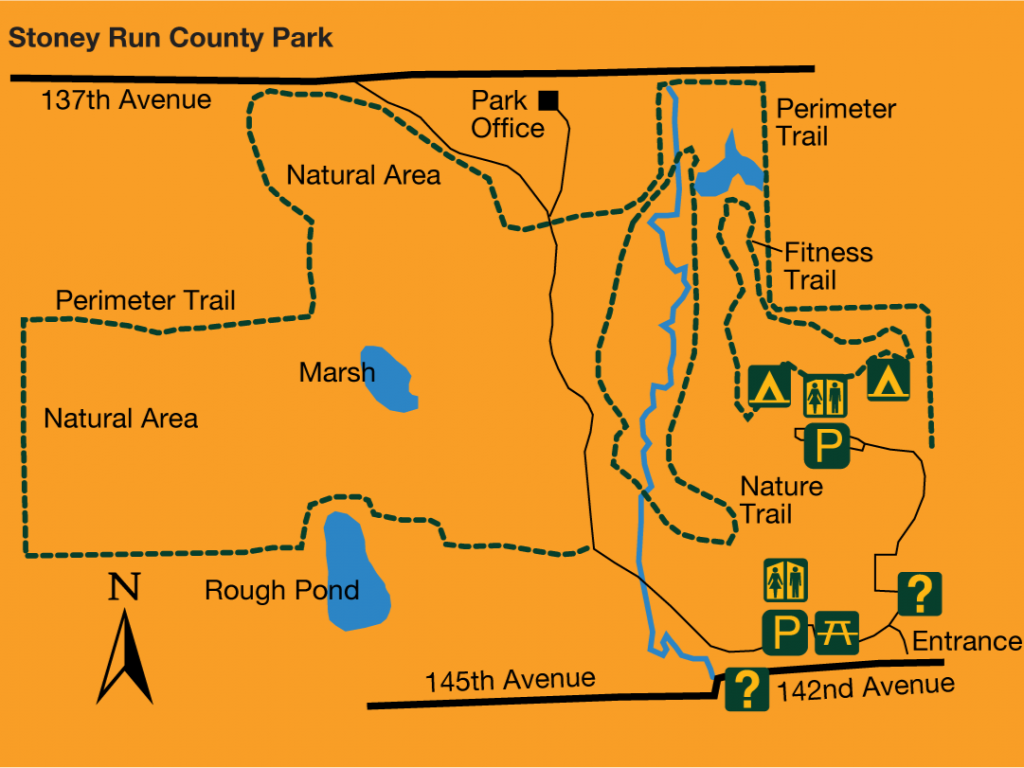 ---
Sunset Hill Farm County Park
775 Meridian Rd., Valparaiso

Sunset Hill Farm County Park is a lovely 235-acre park with a primitive campground, several miles of trails, picnic and play areas, and an amphitheater. The park's hiking trails traverse both prairie and woodland, where you can see birds and other wildlife. A working dairy farm until 1978, the park still grows demonstration crops as part of its educational mission to cultivate respect and understanding for the earth's natural resources.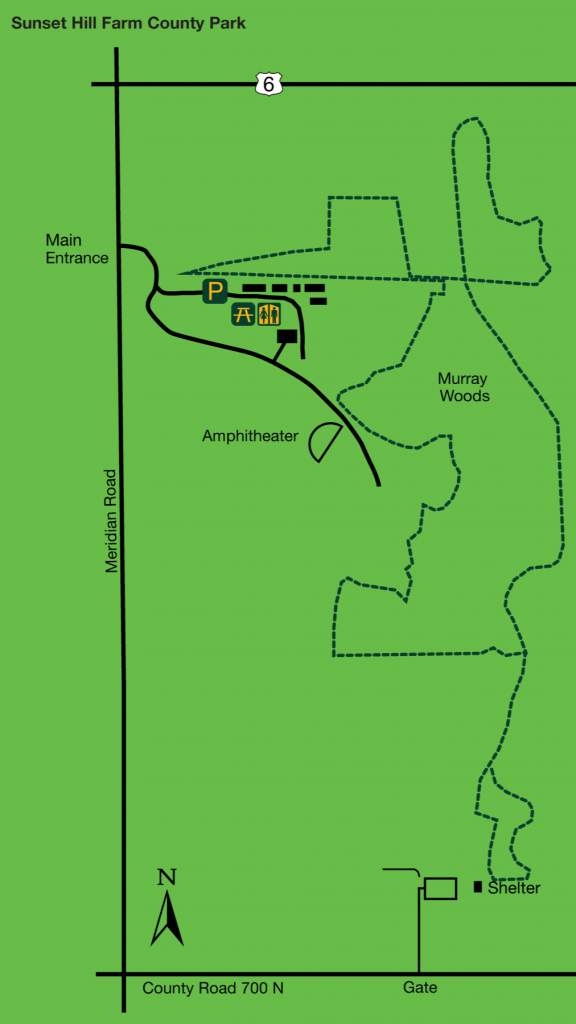 ---
Tolleston Dunes Trail - Indiana Dunes National Park
5800 US Hwy 12 (Dunes Hwy), Portage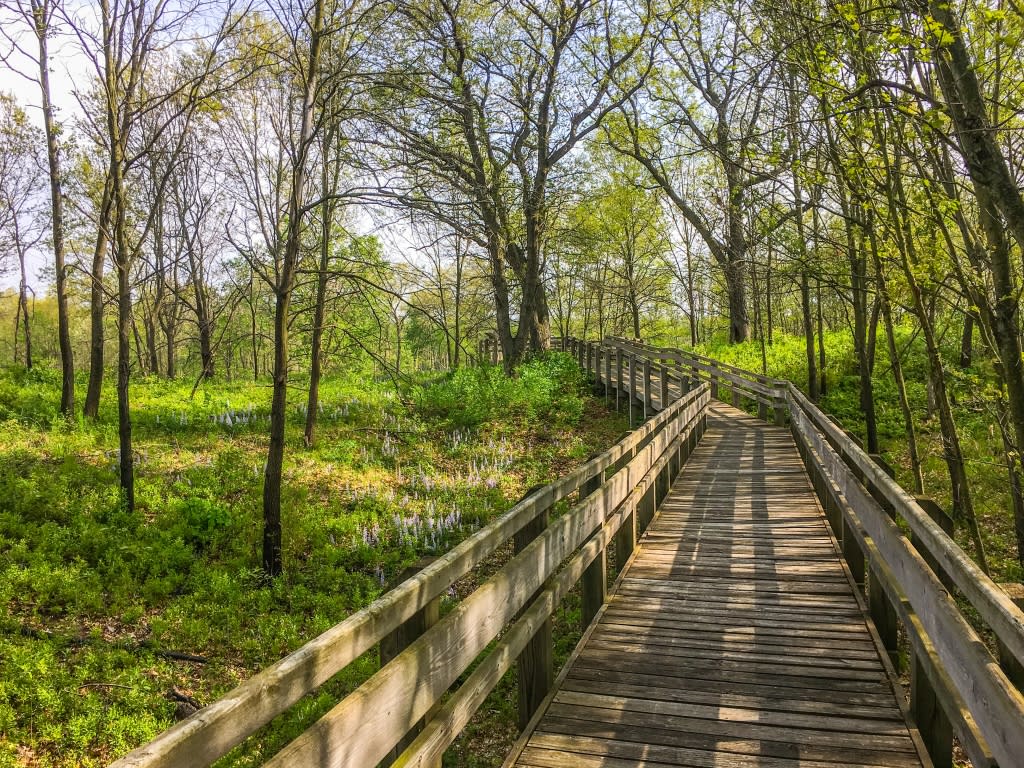 Photo by Smith Donovan
This scenic trail leads up and down the high ridges of the Tolleston Dunes, formed about 10,000 years ago when Lake Michigan was 25 feet higher than it is today. In just 2.6 miles, this trail in the Indiana Dunes National Lakeshore traverses a number of different, beautiful, and wildlife-rich habitats, including black oak savanna, and remnants of the Great Marsh.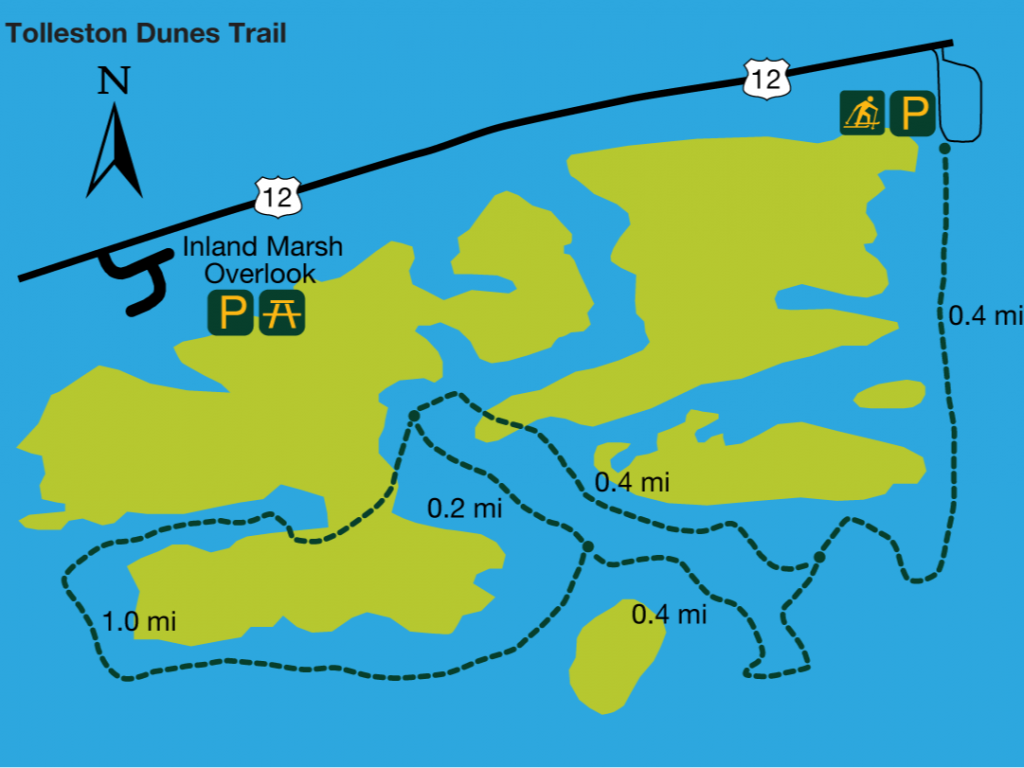 ---
West Beach & Diana Dunes Dare - Indiana Dunes National Park
376 N. County Line Rd., Gary

Climb up over 250 stairs for a challenging hike with one of the best views in all the dunes area. Once you're at the top, take in expansive views of Lake Michigan and the distant Chicago skyline. As the name suggests, this trail is a great place to see ecological dune succession at work. Be sure to read the interpretive signs to learn about the local legend, Diana of the Dunes. The Dunes Succession Trail links with two others in the national park system, covering a total of 3.6 miles.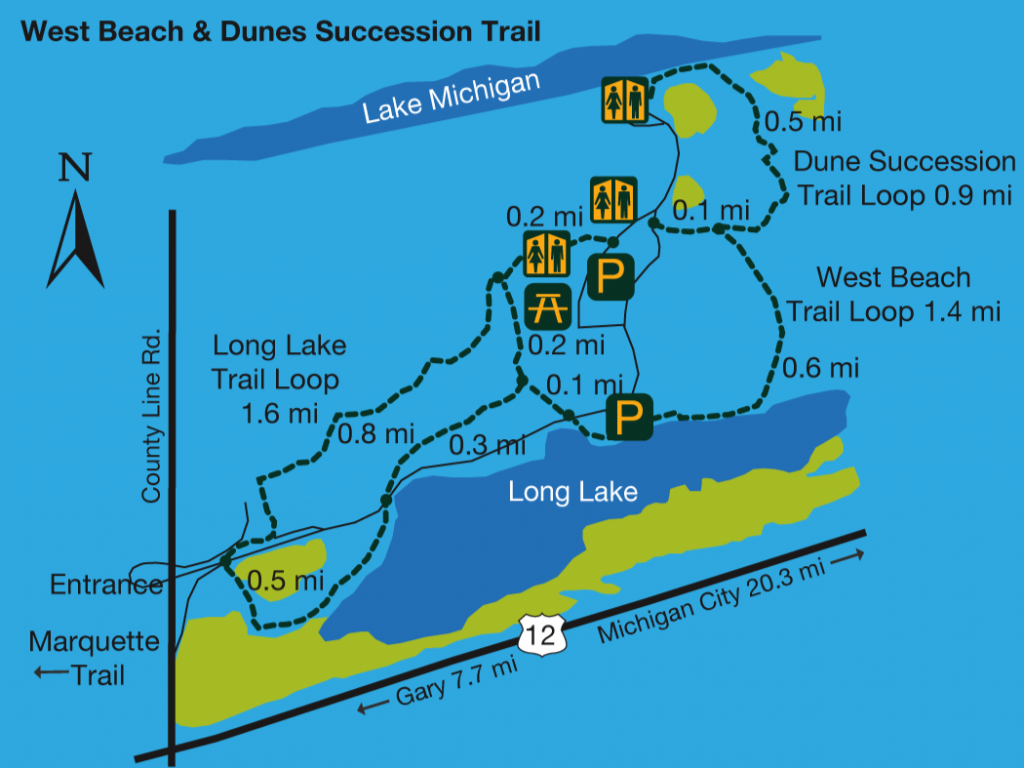 ---
Check out our full list of hiking locations. Want more to explore? Our YouTube channel is full of insider tips and travel tools to help you plan your Indiana Dunes Adventure. Click to Subscribe.