The Indiana Dunes area offers a variety of outdoor activities like swimming, hiking, camping, paddling, bicycling, wandering, and more. To make sure you have the most fun possible while visiting, be sure to watch this video full of safety tips and guidelines about how to be a responsible visitor.
Be Safe on the Lake
The Indiana Dunes has 15 miles of Lake Michigan shoreline which draws visitors from across the United States and world. There are two lifeguarded beaches in the parks—West Beach in the National Park and the Indiana Dunes State Park Swimming Beach. The other beaches are unguarded so you swim at your own risk. There are two important facts swimmers must know about Lake Michigan:
The lake's bottom is uneven and can have sudden dropoffs, even near the shore.
The waves on Lake Michigan can be quite large and dangerous. Sometimes those waves can push through a sandbar and create rip currents. According to NOAA, rip currents "are powerful, narrow channels of fast-moving water that...can move faster than an Olympic swimmer." Even the strongest swimmers cannot fight a rip current so be sure to always heed warning signs.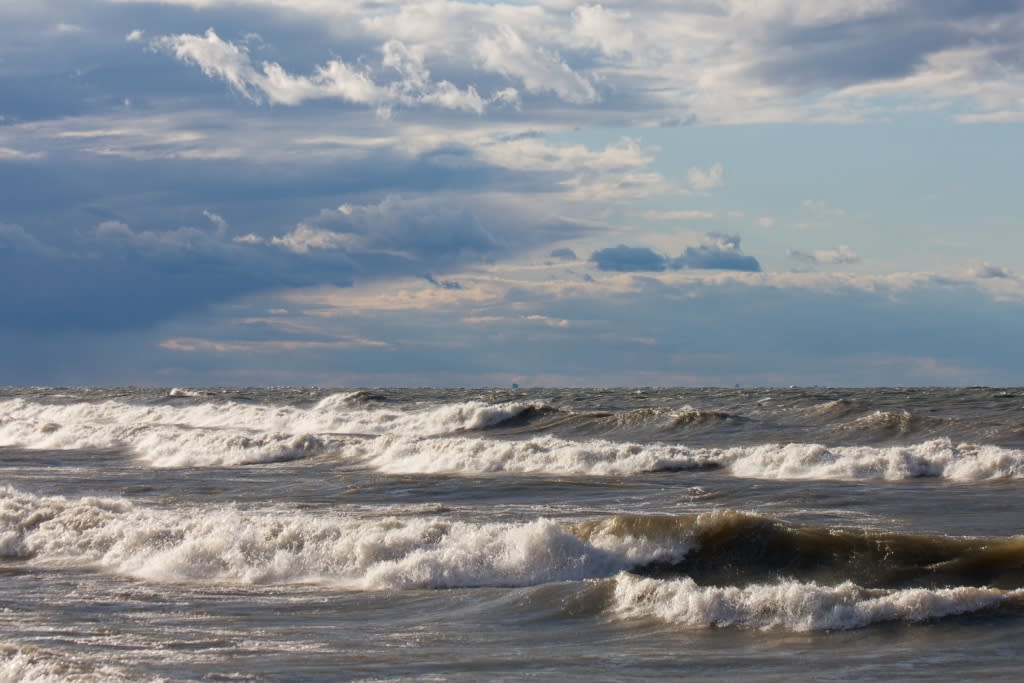 Waves of Lake Michigan
Paddle Safely
Paddling in the Indiana Dunes is a popular activity, but not without risks. Here are a few of the ways you can stay safe while paddling:
Be sure to wear a life jacket or other personal flotation device when paddling on the lakes, rivers, and streams.
Let someone know where and when you are going out to paddle. You can always let the rangers know at the Indiana Dunes Visitor Center.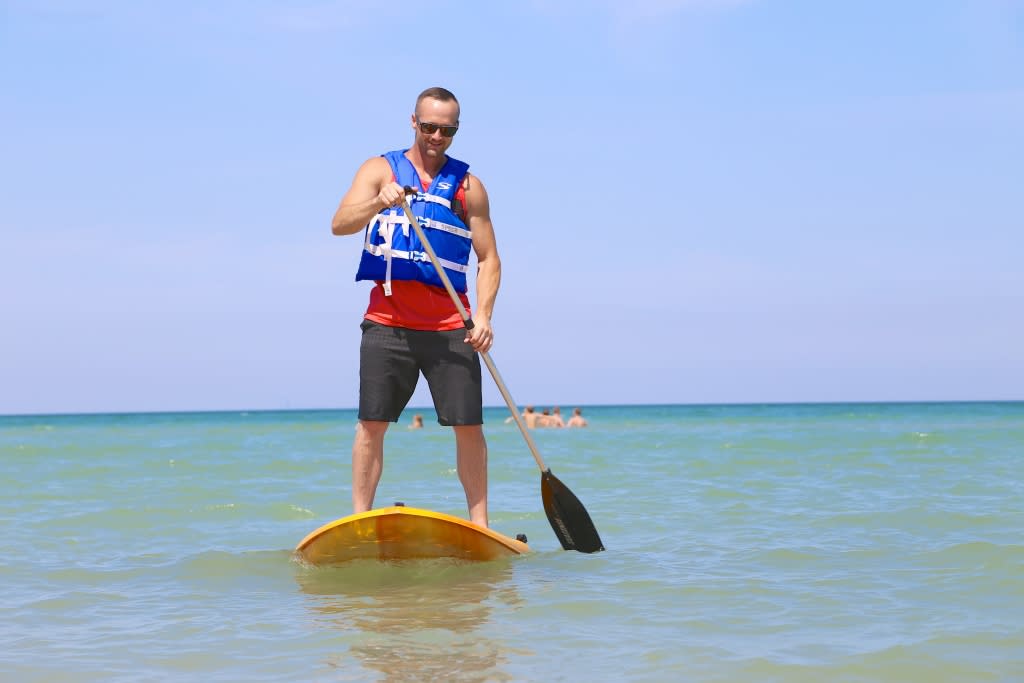 Stand up paddle boarding in Lake Michigan
Shelf Ice
In the winter, shelf ice covers Lake Michigan creating beautiful winter scenery. Shelf ice should always be viewed from land—never step out onto the shelf ice. It can be thin enough in places that you can fall through and not be able to pull yourself back up onto land.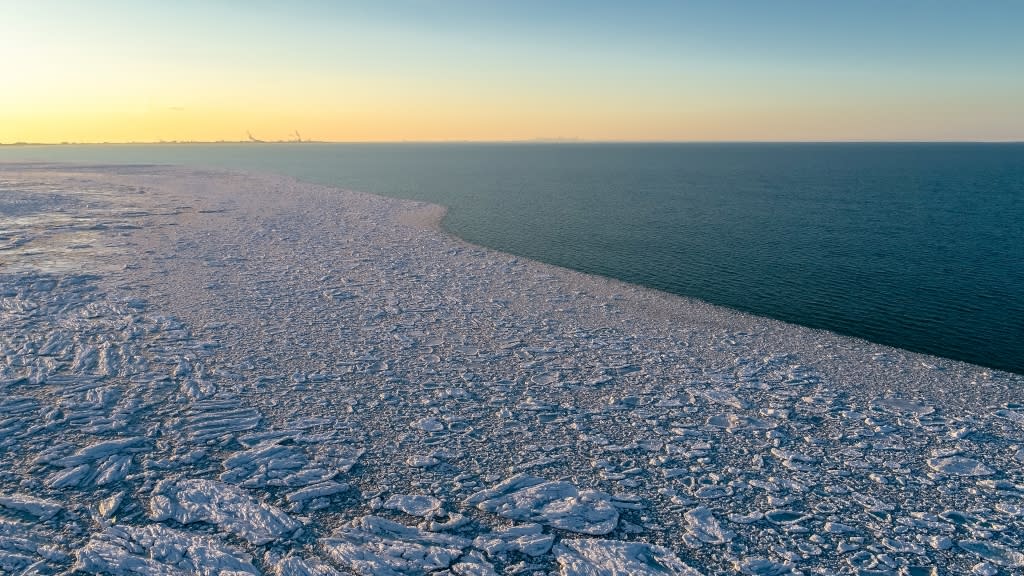 Shelf Ice at the Indiana Dunes
Hiking Safety
Stay on established trails while hiking in the Indiana Dunes to keep you and the fragile Indiana Dunes habitat safe. Here's why you shouldn't hike off-trail:
To avoid walking on marram grass that stabilizes the dune and helps fight erosion.
To protect delicate dune plants like the federally endangered pitcher thistle plant.
To help protect yourself from poison ivy and ticks along the hiking trails. Be sure to wear insect repellent, tuck your pants into your socks, and check for ticks after hiking.
To keep safe from hidden hazards on the dunes. Decomposing trees in the dunes can create open holes you can fall into.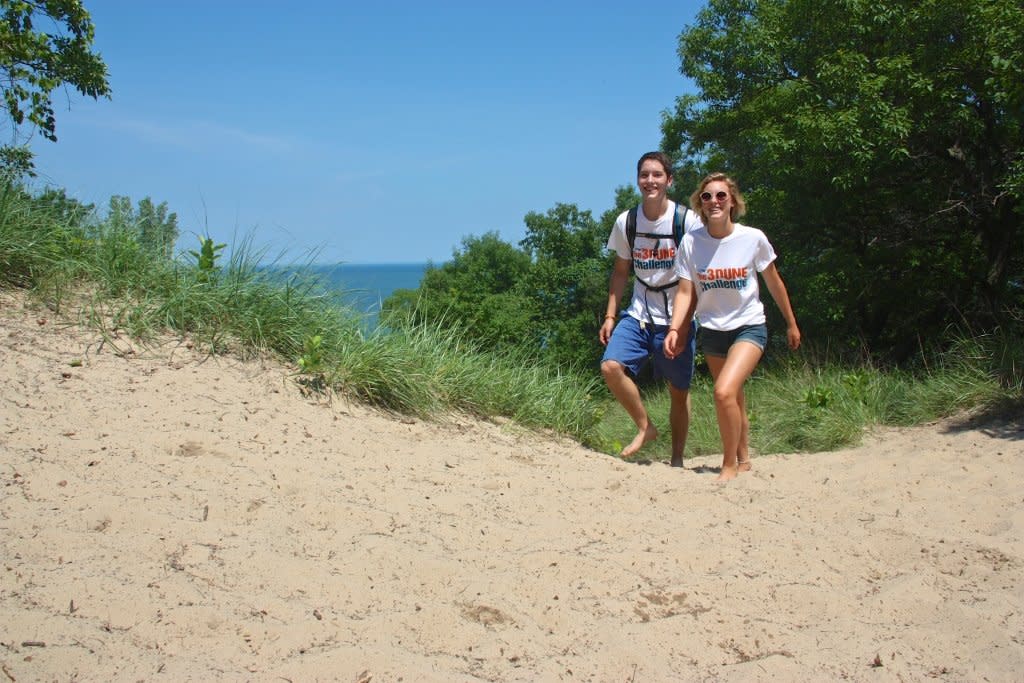 Hiking the 3 Dune challenge
Protect the Dunes
Remember that everything in the Indiana Dunes is protected. To do your part to protect the Indiana Dunes:
Please leave rocks, animals, and plants in the dunes.
Don't bring in firewood from outside the area. Outside firewood can contain emerald ash borers which destroy ash trees.
Don't leave animals or plants in the park. The dune ecosystems are fragile and one invasive plant or animal can wreak havoc.
Take out what you take in. There are a limited number of trash cans in the park so bring your garbage with you whenever possible.
Please don't disturb wildlife.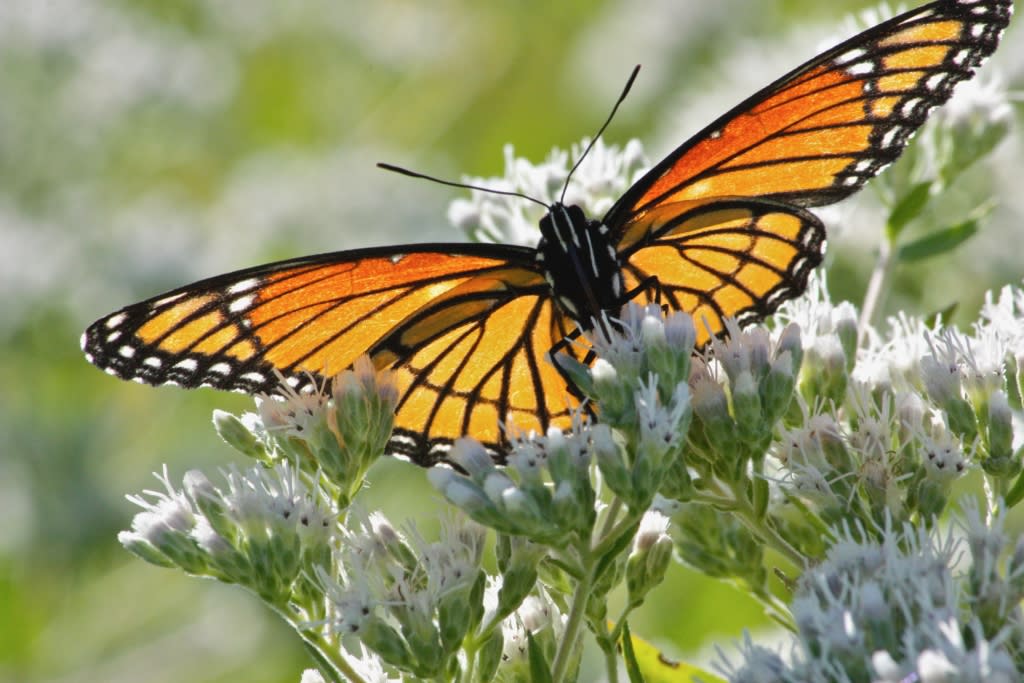 Monarch in the dunes
Be a Responsible Pet Owner
The Indiana Dunes is a very pet-friendly park, but there are some rules to follow for the safety of pets, other visitors, and the delicate habitats in the parks.
Please keep pets on a six-foot leash at all times.
Leashed pets are allowed on all of the beaches and trails in the Indiana Dunes with the exception of:

The swimming beach at the state park.
The swimming beach at West Beach (pets can be walked through to get to trails, but cannot stay in the swimming area.)
Pinhook Bog
The equestrian trail at Glenwood Dunes Trail.
Hopefully, these tips will make your Indiana Dunes vacation special and safe!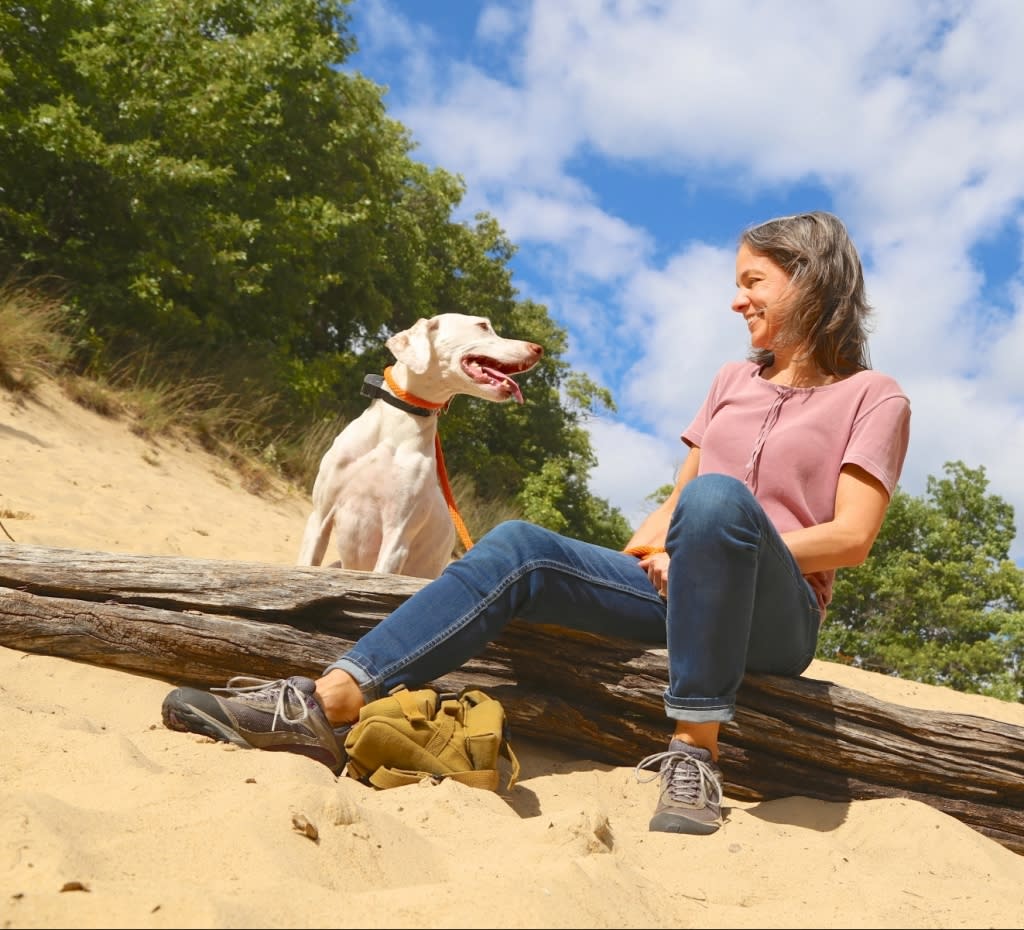 What now?
Now that you know more about the Indiana Dunes, go out there and have an adventure! But don't forget, there are amazing experiences in our area just outside of the dunes. Stop by the Visitor Center located on State Road 49, just a mile before the entrance to the State Park. Inside, you can pick up an Activities Guide, chat with a park ranger, or plan the perfect itinerary with one of our excellent front desk concierges. You'll leave knowing all of the best places to eat, shop, sleep, and play.
---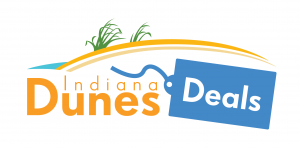 Looking for vacation deals? Sign up for the free Indiana Dunes Deals Pass! Discounts ranging from a free scoop of ice cream to savings on attractions are like finding buried treasure.
Sign up at indianadunes.com/experiences.