Beverly Shores, one of the communities in the Indiana Dunes area, has an interesting history. Especially five homes along the lakefront. Ever wonder what it was like to become a Beverly Shores resident in the past? Here are 7 steps to becoming a resident of Beverly Shores, historically speaking.
Step One: Get to know the Bartlett family (circa 1920s)
Frederick Bartlett, a Chicago real estate guru, is one smart cookie. With the new addition of the South Shore train line passing the southern edges of the dunes, Chicagoans are flocking to Indiana beaches for getaways. Bartlett and his brother, Robert, have started major development of the area that includes a clubhouse, hotel, and home properties. Become chummy with the Bartlett brothers because they have a vision. Of course, it's an even bigger win if you know Frederick Bartlett's daughter, Beverly.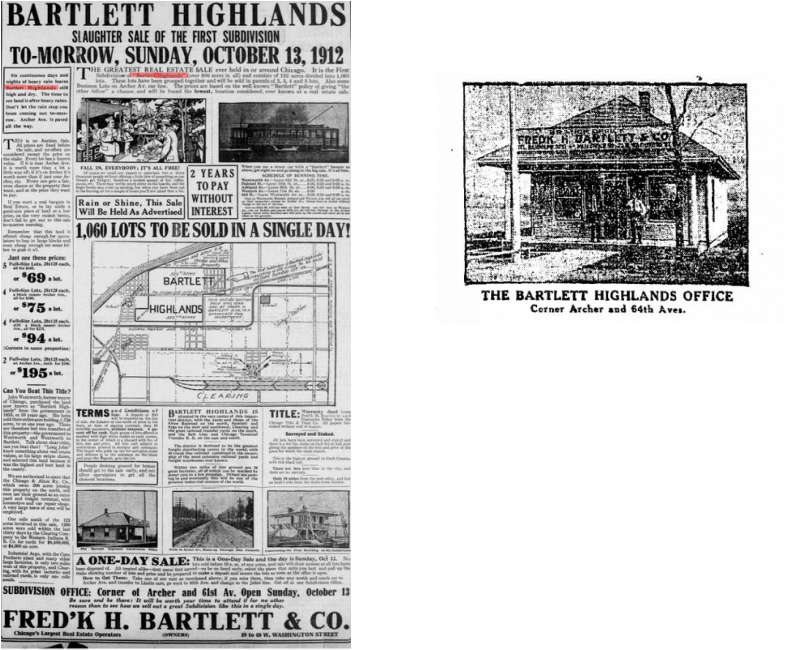 Bartlett sold lots to build homes in Beverly Shores as well as several house plans.
Step Two: Find a home unlike any other (early 1930s)
It can't just be any old house. It has to be a home featured at the 1933 World's Fair in Chicago—advertised as a home of the future. There are only 16 of these structures available, and they're modern marvels of architecture and home design. No pressure.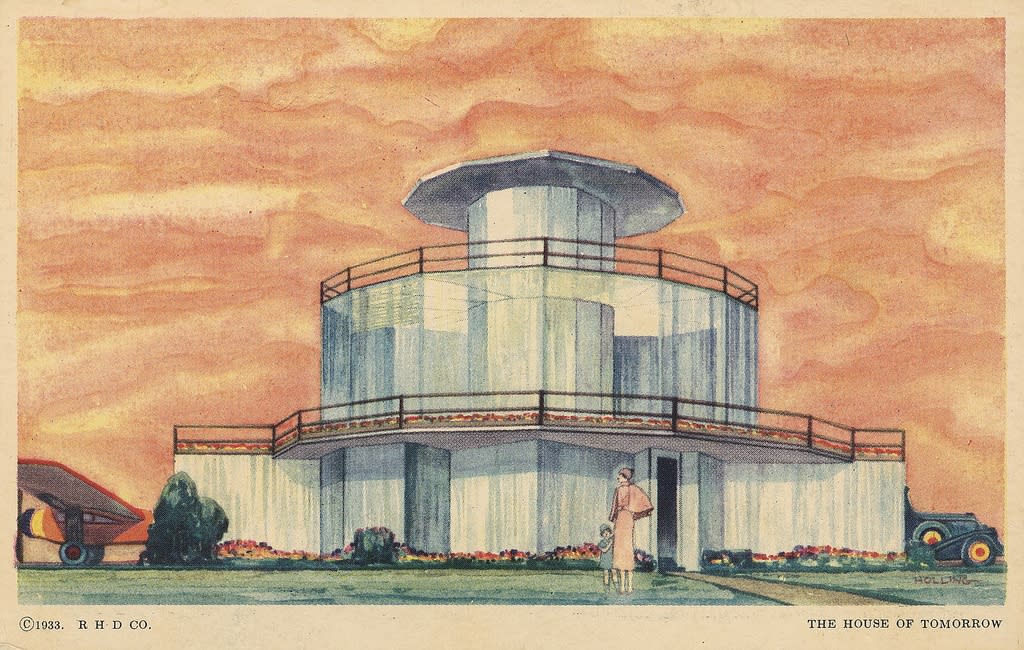 The "House of Tomorrow" from the 1933 World's Fair.
Step Three: Take apart your home of the future piece by piece (mid-1930s)
Then ship it across Lake Michigan on a barge. That's about 35 miles from Chicago to Beverly Shores. Cross your fingers for good weather because that house of yours is about to ride the Lake Michigan waves. While your house makes its way across the lake, you'll take the South Shore line to the Beverly Shores train depot, one of the dozen stucco buildings that dot the town.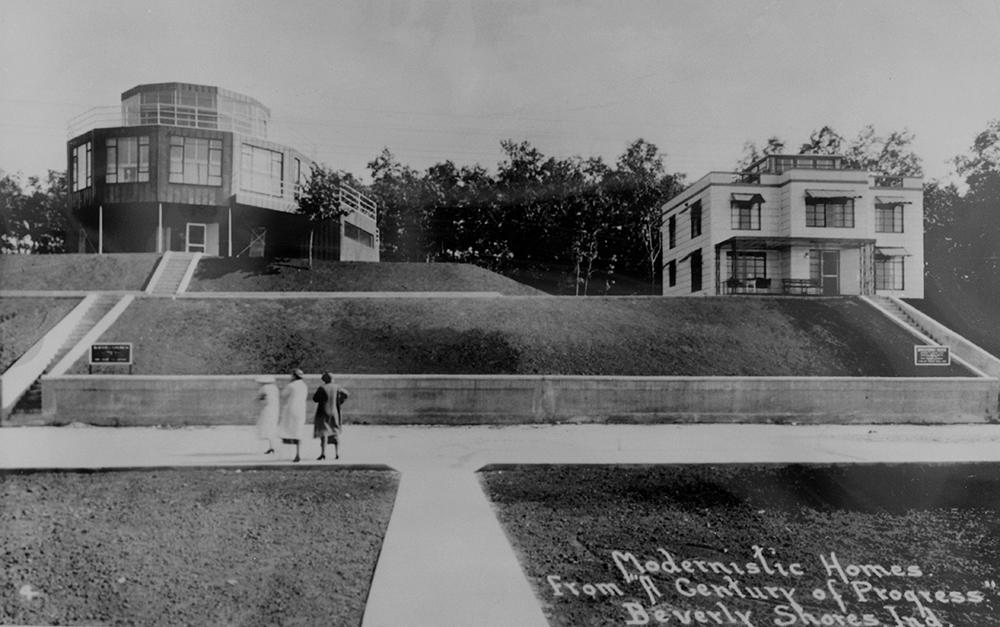 The House of Tomorrow and the Armco-Ferro House after they had been moved across Lake Michigan.
Step Four: Wait decades to put your house back together (early 1940s-1998)
World War II has stopped Bartlett's dream of major development, and Beverly Shores becomes a quiet town. Growth is slow but steady through the following decades. Your home of the future, unfortunately, begins to deteriorate as it passes from owner to owner. Eventually, only five of these structures remain.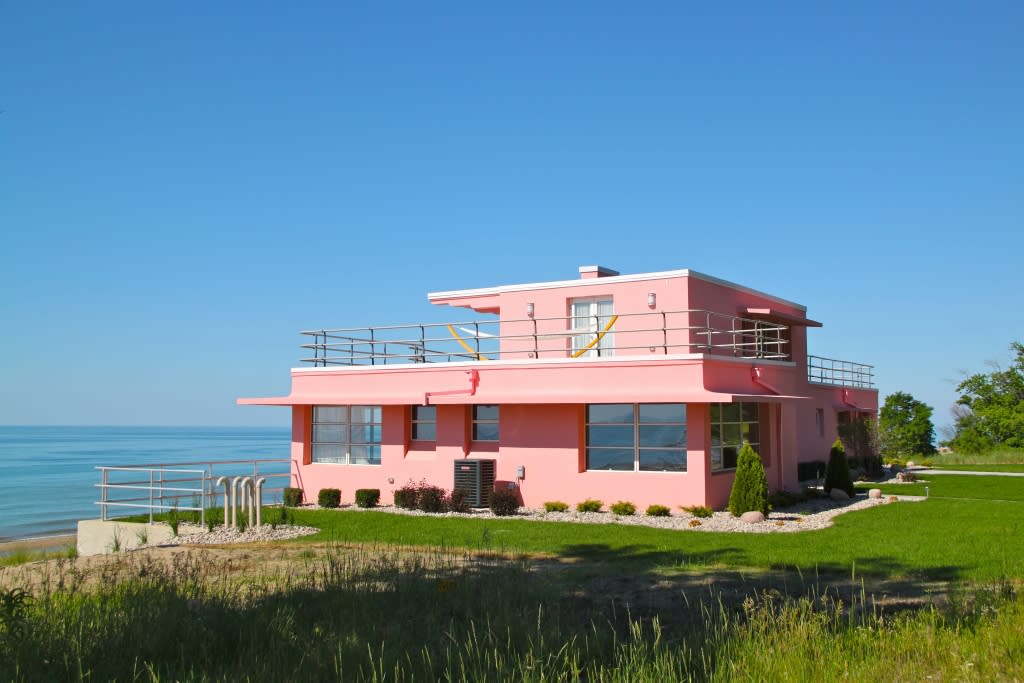 The Florida House - quite possibly everyone's favorite and the first home to be restored.
Step Five: Reconstruct your home - but there's a catch (early 2000s)
Finally! Your home of the future gets some much-needed TLC. The National Park Service and Indiana Landmark Association commit to saving the World's Fair homes that remain. However, you won't own the home. You'll merely lease it while painstakingly returning it to its former glory decades after it was built. Once a year, your place is opened to hundreds of tourists for the annual Century of Progress Homes tour. It's arguably the most popular event of the year in the National Park.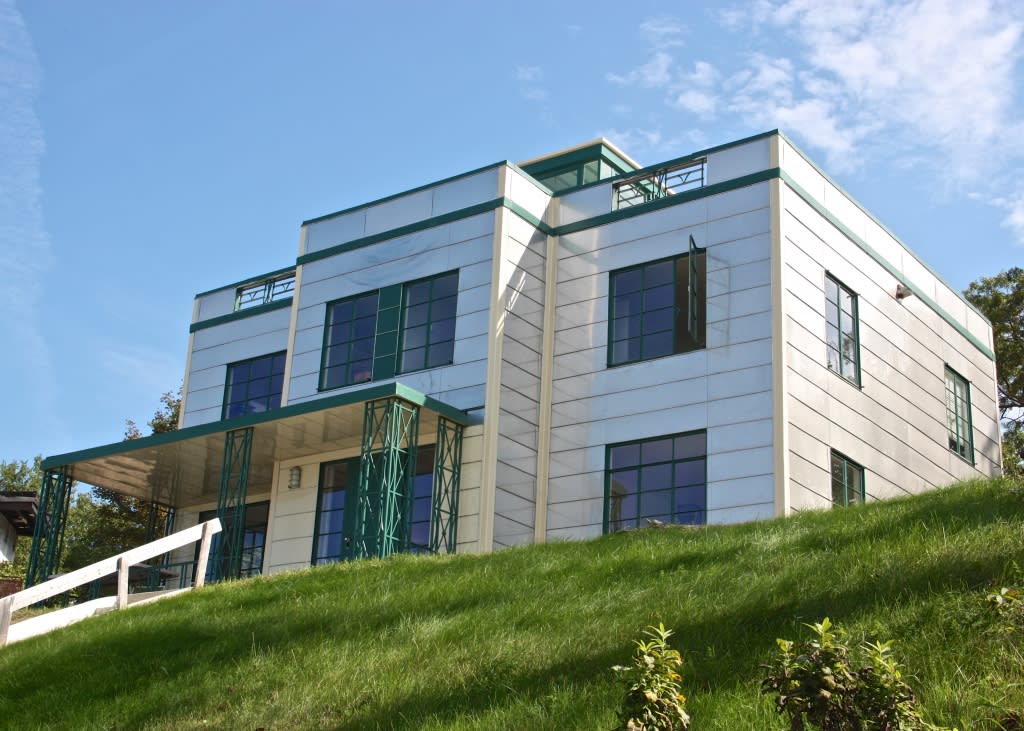 Armco Ferro House: Century of Progress Homes, Worlds Fair, Beverly Shores
Step Six: Did we mention the painstaking restoration? (mid-2000s)
You can't simply slap some paint on those walls and move on. This is real, historic work happening. If you lease the Armco-Ferro house, every single green tile in the bathroom is removed, numbered, and replaced in its original spot during remodeling. Oh, by the way, all 110 tons of your house also need a new foundation under the shifting sand it's been sitting on for decades.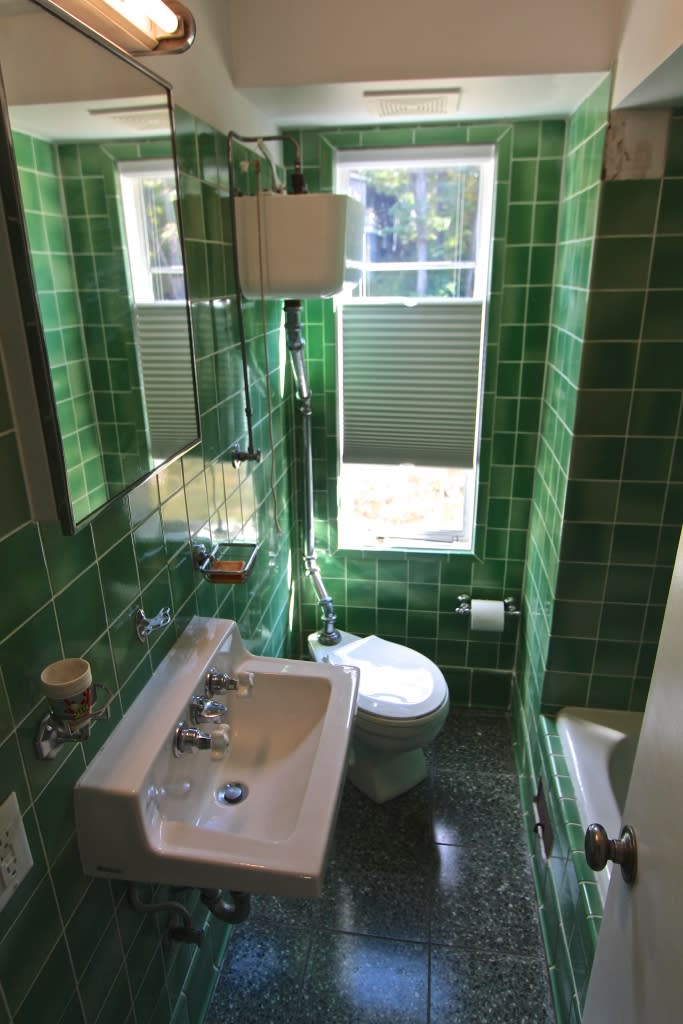 The bathroom in the Armco Ferro House—imagine numbering and precisely installing those tiles during renovation!
Step Seven: Pay homage to local history with a trip to the train station (today)
Those thousands of passengers who visited the beaches of Beverly Shores each year? They came through the Beverly Shores Depot—still a train station today but also a local museum and art gallery. The pink stucco building stands out, especially against winter snowfalls, and its neon sign glows at night. Visit this local gem to get more perspective on the history of Beverly Shores and the Century of Progress Homes. And you can't miss a meal at Goblin & the Grocer!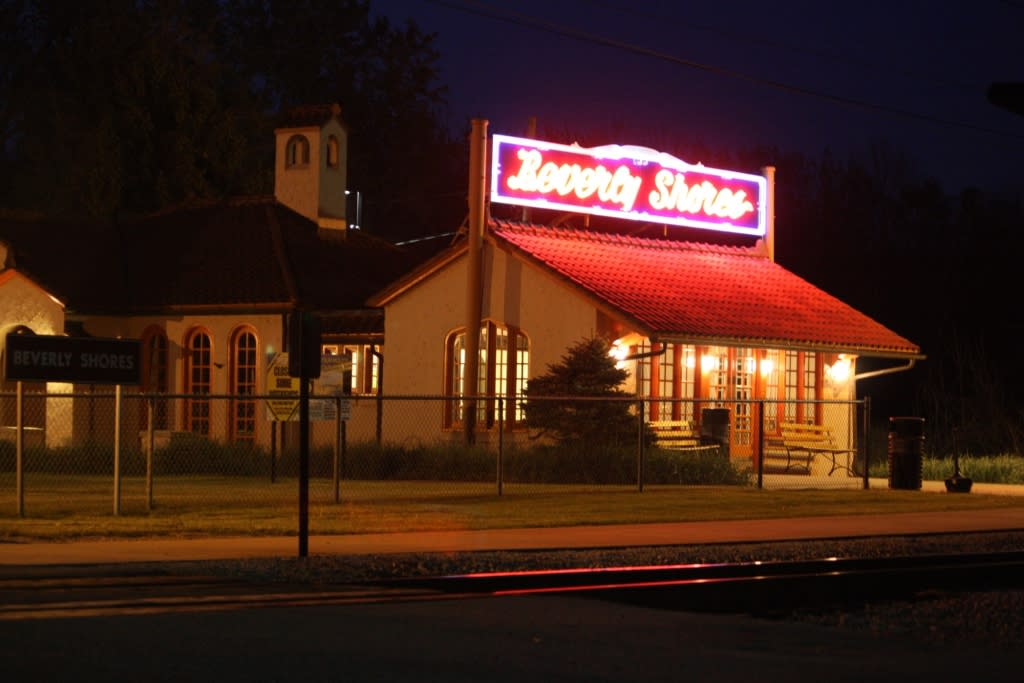 The Beverly Shores train station at night.
And there you have it. Seven not-at-all-easy steps to living right on the Beverly Shores beach.
Ready to check out some more gems in the Beverly Shores area? Consider a hike at the Great Marsh or watching the sand swallows at Central Avenue Beach.