Moving to Chicago was our third move in 5 years. Raised on the West Coast and educated on the East, I suppose it was only a matter of time before my wife, Dee, and I settled on the Third Coast. With each move, we've made it a priority to find a nearby destination for outdoor adventure and natural tranquility.
The Indiana Dunes had been on our radar for a while. It's not often you can drive to a national park (the Indiana Dunes National Park) within an hour of a metropolis. Tall trees, forested hills, and wide-open spaces were a welcome change from our downtown place. When the weather finally hit pleasant spring temperatures, Dee and I loaded up the car with the bikes and kayak and headed to the Indiana Dunes for the weekend.
Imagination Glen's mountain biking playground
Our local bike shop owner raved about the Outback Trail at Imagination Glen. While I'm not the most technical rider out there, I am a bit of a connoisseur when it comes to single-track mountain biking. Having ridden some of the country's best trails on both coasts, I know a thing or two about what makes a good mountain biking trip. From my conversation with the shop owner, I knew that Imagination Glen was one of the premier trail networks near Chicagoland.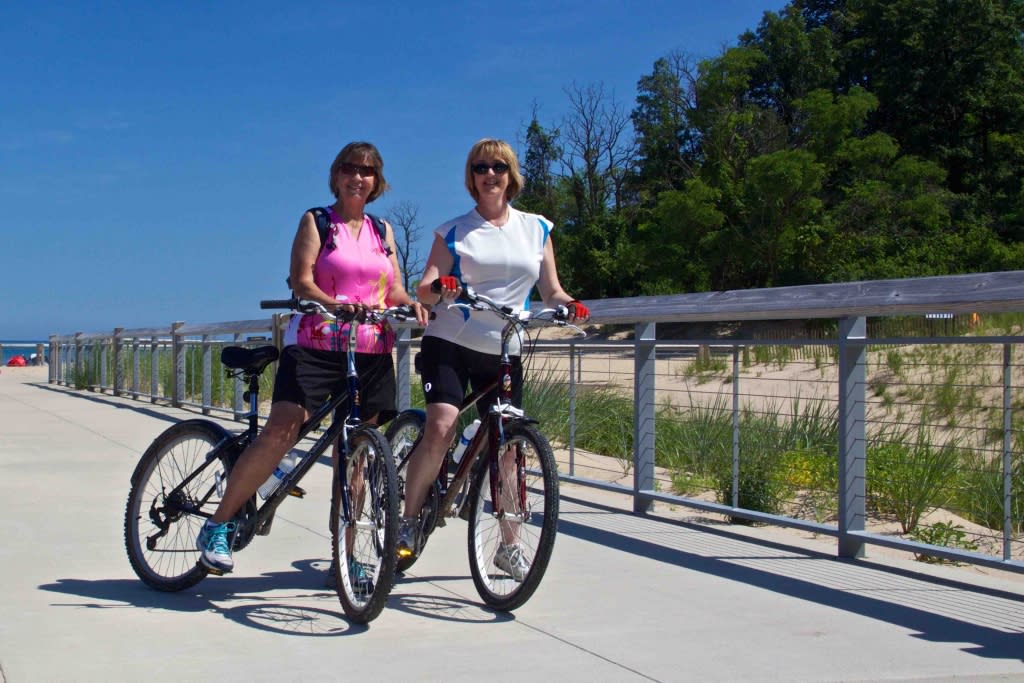 - There are plenty of places to mountain bike and do trails for road bikes in Indiana Dunes Country.
We arrived early at Imagination Glen. The park looked like an unassuming neighborhood park yet it held 10 miles of well-maintained and designed mountain biking trails for all skill levels. I was brimming with anticipation for spring riding, excited to really get moving. Temperatures were comfortable enough for shorts but cool enough to keep away bugs—perfect weather for riding.
Starting on the easier trail, "the front side", we meandered through the woods at a gentle pace, savoring the first real breaths of spring. Finally, there was some green in the trees and wildflowers were just starting to bloom alongside the path. The long winter had made for a gorgeous spring, and a rejuvenating ride through the woods was the best way to enjoy it.
On the other side of the river that bisects the park is "the dark side". Riding these was more demanding, and one of the most exciting loop rides was the "rollercoaster." It rode just like one of those old wooden roller coasters—lots of drops, hills, and tightly banked curves. "Rich's revenge" and "log jam" were equally adrenaline-pumping rides. Dee preferred the entertainment of watching me white-knuckle down the intense sections while she rode along at a calmer pace.
Back at the parking lot, we discovered that these trails are maintained by a fiercely dedicated organization of local bikers and we were thankful to have discovered a Midwestern mountain biking Mecca.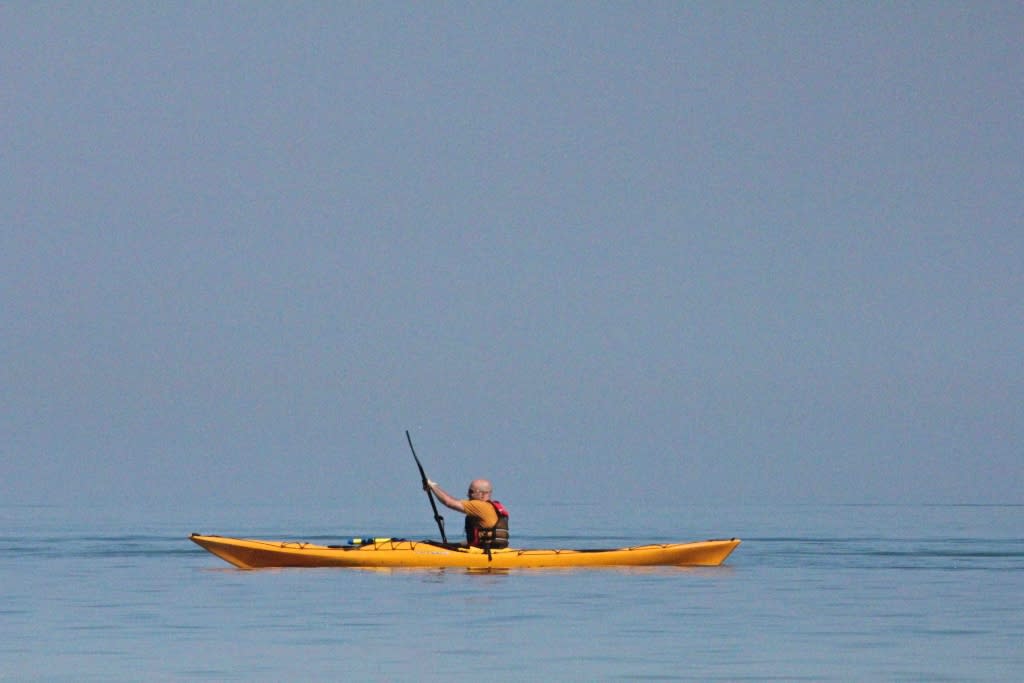 - Nothing beats paddling on Lake Michigan.
To the beaches
 The afternoon took on a more leisurely pace as Dee and I both love being near the water. She likes lounging on the beach in the sun while reading a good book, and I can't imagine anything more relaxing than sitting in a kayak following the currents. We both found our peace at Indiana Dunes State Park, an access point to the Lake Michigan Water Trail, boasting over 50 miles of a continuous water trail. Dee found her little slice of the beach and promptly had her nose in a book while I paddled off.
The size and magnificence of the dunes and park became very apparent from my kayak. From a few hundred yards offshore, they towered above the shoreline with forested bluffs beyond. To my right was the Chicago skyline of our new home. I paddled slowly; soaking up the sound of the wind and water as I glided along the water. It was a much-needed peaceful getaway from the big city.
Our first day of adventure had been quite full. We stayed the night in Porter and slept soundly.
Paddling the Kankakee River
 Well rested and ready for more of the great outdoors the following morning, we turned our sights to the Kankakee River, which is a major fishing and boating destination. Driving through the more rural parts of the region, we came to Dunn's Bridge County Park. This was a perfect spot to drop in a kayak for a trip down the Kankakee. Most of the river in Indiana is open for kayaking and fishing. We could have paddled all the way to Illinois if we had the time.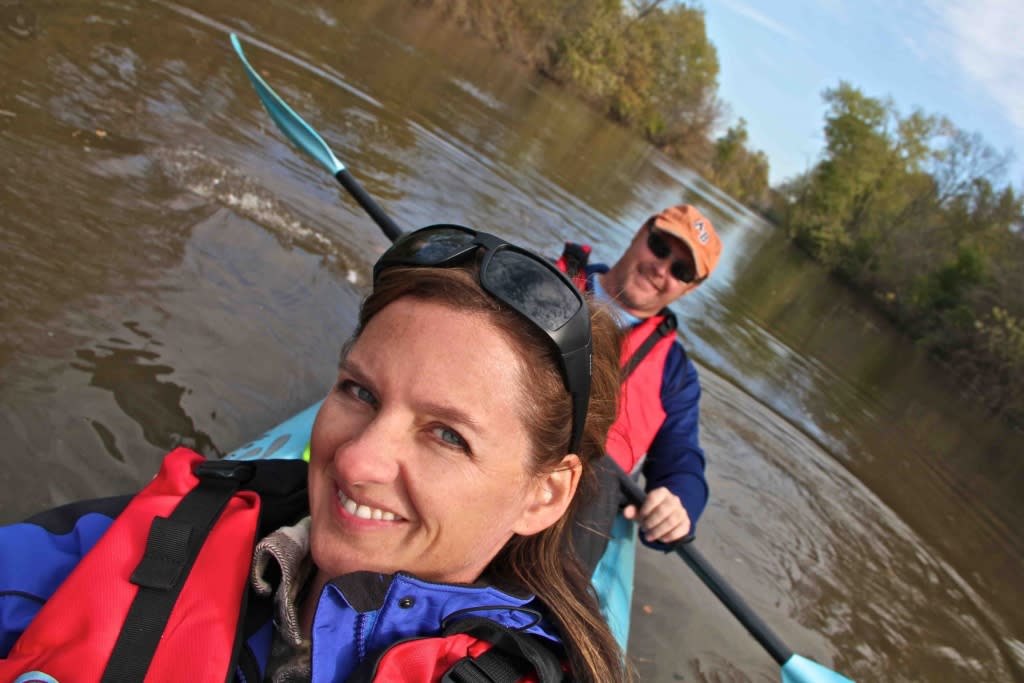 - A relaxing time along the Kankakee River.
I wanted to paddle down the Kankakee for a bit so Dee agreed to pick me up four miles downstream at another boat launch. This section of the river is enclosed by verdant woods, making the paddle feel adventurous. I was on my own now and enjoyed the solitude of nature. The light current pushed me down this avenue of trees and I kept a comfortable pace without too much effort. The river was bustling with life and I wished that I had brought a fishing pole. Although I only paddled for a few hours, people frequently make long-distance trips through several sections of the Kankakee.
 West Beach hiking
That afternoon, we wanted to continue our exploration with some hiking through the dunes. The park rangers highly recommended West Beach for its unspoiled wilderness, which showcases the dunes' vibrant nature. Apparently, we weren't the only ones impressed by this lush environment. Some of the forefathers of ecology first crafted the idea of preservation around these dunes. We were thankful for their work!
Walking the West Beach Succession Trail brought us from the beach through the forest and we saw the peculiar sight of cactus and pine trees, species not normally seen in this part of the country. The trail became a boardwalk and we ascended the dune to a lofty view.
By that time it was late afternoon. We watched the sun create a gorgeous silhouette of the Chicago skyline.
"This really was a perfect weekend," Dee said, contented as we enjoyed our view.
"I can't believe it took us so long to get out here," I replied. As we hiked back down, we took great comfort in knowing that this outdoor adventure destination was in our city's backyard. Work seemed to evaporate with a weekend well spent in the springtime sun.
As with so many of our trips, we came back with a long list of things we'd like to do on future trips. The 3 Dune Challenge looked like excellent trail running with panoramic views; excellent for spring 5K race training. A few local mountain bikers had also recommended Bluhm County Park and Coffee Creek Watershed Preserve for more single-track riding. We could also take on more of a cross-country style ride on the Calumet Bike Trail, which rides straight through the Indiana Dunes National Park. Whatever our plans, I'm sure it won't be more than another weekend before we return.
Plan your next outdoor adventure in Indiana Dunes!