When you plant a garden, sometimes you get surprises – like the tomatillos and dill that are unexpectedly growing in my garden from last year's seed. And sometimes you get other surprises, too – a goldfinch that flies in or perhaps the caterpillar of a swallowtail butterfly. The same is true with prairie plantings.
When we began retiring our Kankakee Sands agricultural fields 20 years ago in order to restore the prairie landscape, we spread thousands of pounds of seed of hundreds of different types of native plants. We got some expected results—like a lot of big and little bluestem grasses. We got some exciting surprises, too – a rare three awn grass and nodding ladies tress orchids.
And we got frogs--lots and lots of frogs--as well as grassland birds, butterflies, dragonflies. So many animal and insect species moved in because of the prairie that was planted. Over the years, we've documented thousands of plant and animal species at Kankakee Sands, but we haven't inventoried everything. Not even close!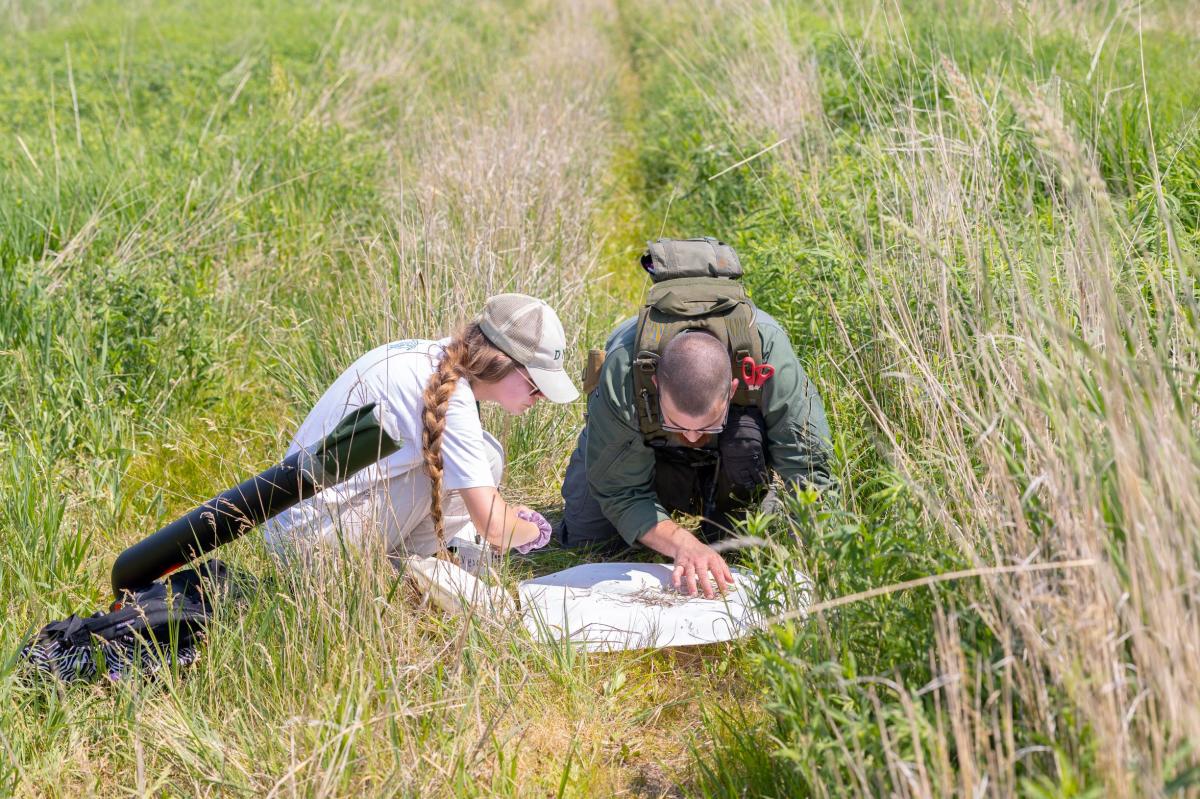 And that, my friends, is the beauty of the BioBlitz. On June 3, TNC partnered with the Indiana Academy of Science (IAS) to host this year's BioBlitz at Kankakee Sands. More than 100 scientists, experts, and nature enthusiasts from around the state came to Kankakee Sands for the 24-hour event with the goal of inventorying as many species of living creatures as possible. Participants explored Kankakee Sands, surveying for ants, aquatic macroinvertebrates, bees, beetles, birds, fish, freshwater mussels, fungi, reptiles, amphibians, moths, butterflies, mammals, singing insects, snail-killing flies, spiders, and vascular plants. The findings are a snapshot of the diversity of species at Kankakee Sands and a peek into the health of our prairies.
Within several hours of surveying, the BioBlitz spider team stumbled upon a striking jumping spider that caught their attention. Team member Casey Venable* was the first to notice the spider, and she quickly called Rick Malad** over to identify it.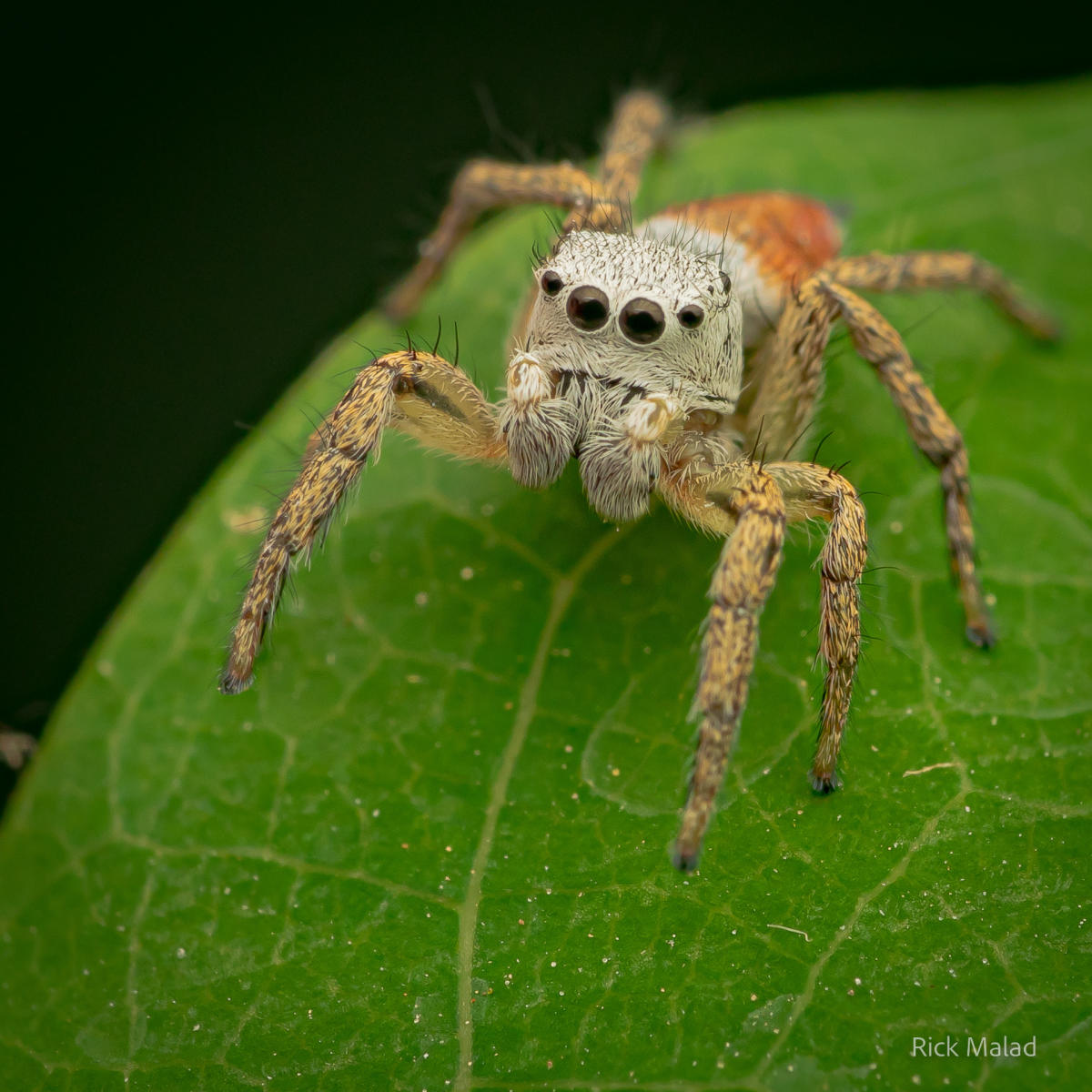 Rick Malad shares, "We found the Habronattus decorus during our first stop of the day at Unit H, so we were just getting started. I do recall talking the day before with our team leader, Kevin Wiener, about the potential for finding Habronattus spiders at Kankakee Sands. It's good habitat for them, and I was extremely excited when Casey found one right out of the gate. I knew immediately that it wasn't a species I had seen before—a lifer for me—and it is a very striking spider. I was pretty giddy about it, so I set to identifying it while I was still kneeling on the ground. Fortunately, it's a distinctive species, so identification was easy. I checked several resources when we got back to the car and realized it likely hadn't been reported in Indiana yet."
As jumping spiders go, this guy was pretty cooperative in front of the camera. He was doing something that you'll see in jumping spiders every once in a while: he wouldn't stay off of my hands. Most spiders flee from human skin in a hurry, but some individuals, for some reason, seem unbothered by it. It's an endearing quality but does make achieving a natural setting in a photograph a bit of a challenge.
This particular jumping spider, a paradise jumping spider, is fairly widespread and has been found across much of the United States and Canada but lacks documentation from much of the Midwest. Jumping spiders don't make webs to capture prey. Instead, they rely on their excellent vision, quick movements, and strong forelegs.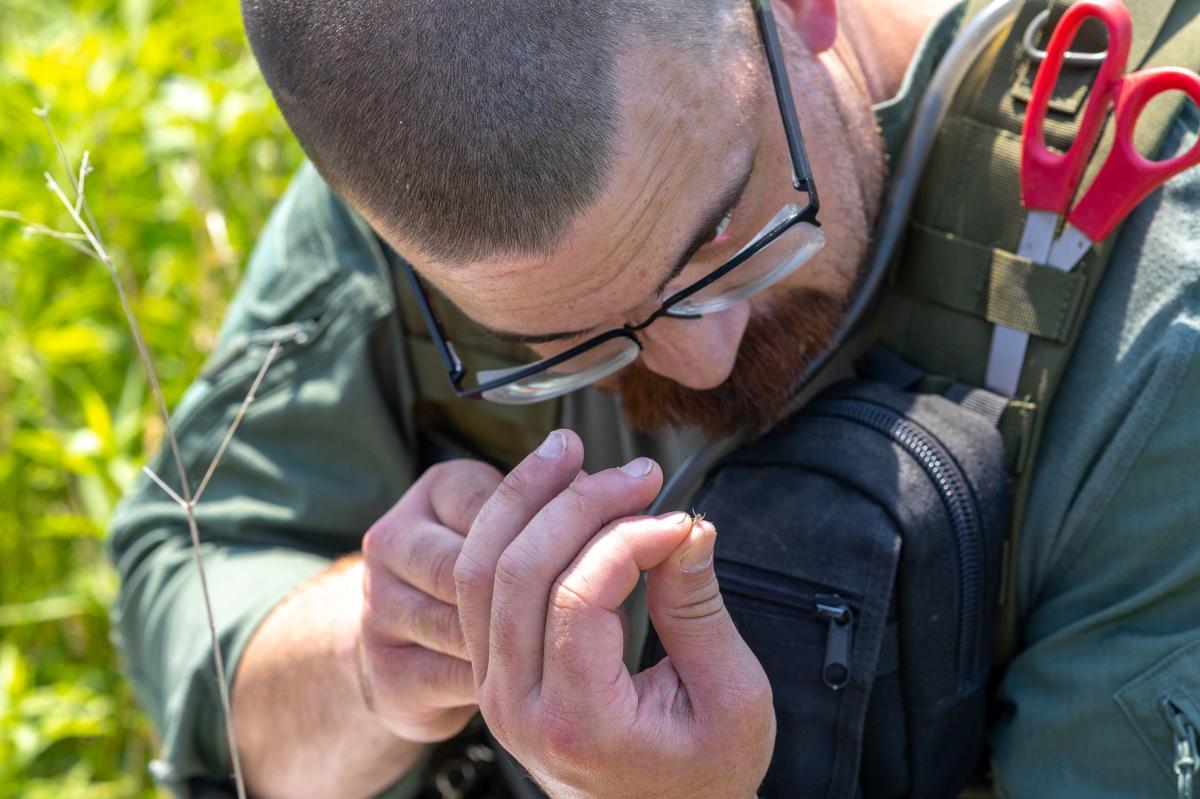 Of her discovery, Casey shares, "To me what's also interesting to note is that this species has been documented in surrounding states but somehow slipped through the cracks of Indiana records. In fact, Dr. Marc Milne, Professor of Biology at University of Indianapolis, has added hundreds of spiders to Indiana's list in just the last decade. To me, it's amazing these discoveries are still being made in 2023."
As Casey shares, species do go unnoticed, especially in large spaces like the 8,000 acres at Kankakee Sands, not to mention the even larger 20,000 acres of natural area of Newton County. 
So this summer, be sure to visit Kankakee Sands and help us discover all the amazing things that are utilizing the natural spaces, places, nooks and crannies of the prairie. The prairie is jumping with life… and jumping with jumping spiders, too! 
The full results of this year's BioBlitz will be summarized by this fall and will be published in the Indiana Academy of Science Journal. If you'd like to learn more about the BioBlitz and possibly attend the afuture BioBlitz, visit  indianaacademyofscience.org/resource-center/bioblitz-events-data/
______________________________________________
*Casey Venable recently graduated in May from the University of Indianapolis with a bachelor's in Environmental Sustainability. While in college, she completed research work in spider taxonomy, including illustration and species identification. This summer, she is interning with the Hamilton County Soil and Water Conservation District as their Mapping Intern. In the fall, she will be attending the O'Neill School of Public and Environmental Affairs at Indiana University for her Master of Science in Environmental Science.
** Rick Malad is an Indianapolis native now living in rural Owen County and has been an avid nature enthusiast since childhood. After serving with the Marine Corps in Afghanistan, he started getting back into photography. It was his macro lens that first opened his eyes to the fascinating world of arthropods. He considers himself an all-around amateur naturalist with a keen love of the natural world and thanks his friend, Kevin Wiener, for introducing him to the world of spiders. 
_____________________________________________________________________________________
The Nature Conservancy's Kankakee Sands is an 8,400-acre prairie and savanna habitat in Northwest Indiana, open every day of the year for public enjoyment.  For more information about Kankakee Sands, visit www.nature.org/KankakeeSands or call the office at 219-285-2184.