Every summer my family of four travels the Midwest in search of adventure. Last summer, while on our traditional summer weeklong trip to the Indiana Dunes area, I stumbled upon something new. Uncharted territory. A new adventure.
Family, I have a plan!
But this is not a shiny new attraction. It was only new to us. This is history in its purest form, the natural wonder of the Indiana Dunes. There is more to the miles of beaches than fun in the sun and water sports. There is a challenge that every member of your family can do together—The 3 Dune Challenge.
"Sun, sand, exercise, different trails we can choose from—what more do we need?" I asked my husband, Matt, and our two sons.
When looking for outdoor adventures for my family, I know that we all want to enjoy our time together, but we don't have the same level of athleticism. My oldest son Noah is a 15-year-old competitive swimmer with inexhaustible energy, Matt is pretty athletic, I'm moderately active and my youngest son, 11-year-old Jacob, could have a hard time keeping up with his brother. When my parents join our adventures, we have to consider their fitness level, too. They love staying active and being outdoors, and they love spending time with their grandsons more than anything. But since they're older now, they like to move at a slower pace than my boys do.
Hiking is something we all enjoy together, and it works for different abilities. Everyone benefits from the exercise and time well-spent with family in the great outdoors!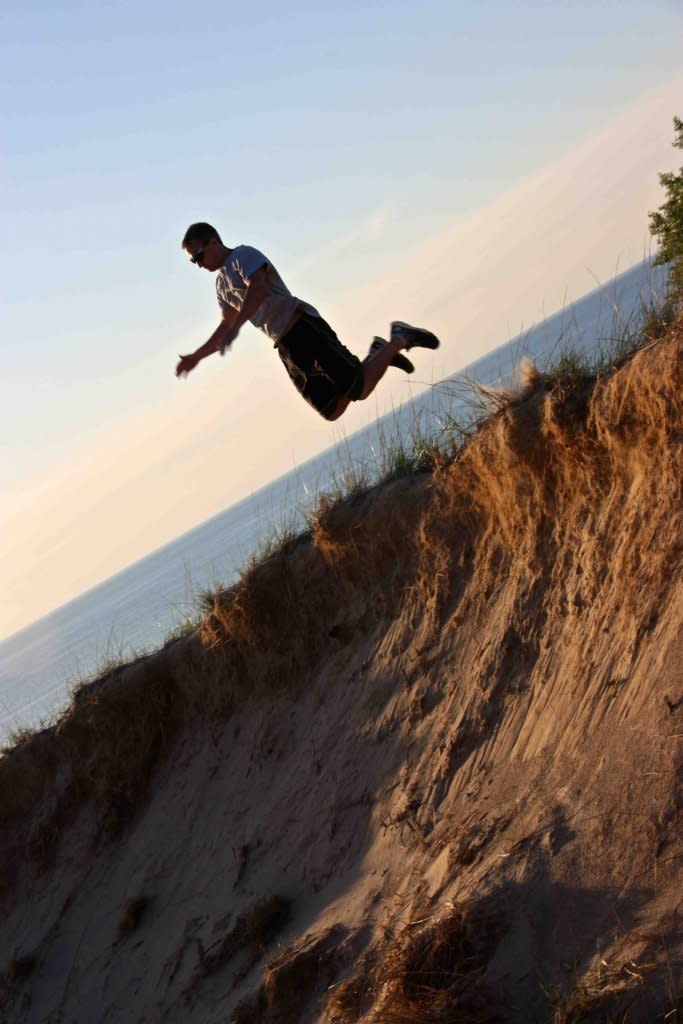 Walk or run?
At Indiana Dunes, it was apparent immediately that our group would split up into three pairs to accommodate everyone. My husband and Noah decided early on that this would be a race to the finish.
"I think we'll finish in HALF your time!" Noah grinned. He turns every outdoor excursion into a healthy competition.
Jacob shares my love of photography, so we planned on climbing each dune at a slower pace and snapping some beautiful photographs. My parents chose to skip The 3 Dune Challenge and instead opted for a moderate trail with lots of opportunities to spot wildlife.
"It looks like there are trails for everyone," explained my father as he studied the trail map we picked up at the Nature Center. "Don't wait for us, we're going to take our time. I think that we'll take Trail 4 to Mt. Tom and check out the black oak forest. Meet you on the beach!"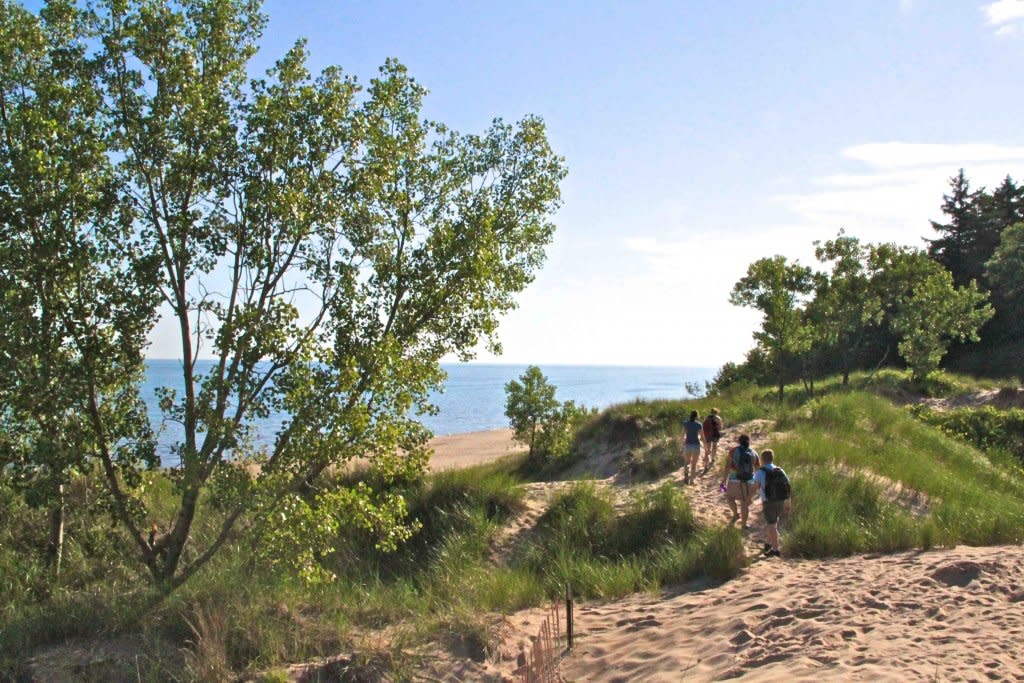 See you at the finish line!
Our adventure began at Indiana Dunes State Park, where Trail 8 starts at the Nature Center. The sandy dunes towered above us with the promise of adventure, and we were all excited to get started.
Matt and Noah counted themselves off, tearing away from their imaginary starting line with a loud "GO!" leaving Jacob and me to start our climb at a less frantic pace.
Tall grasses waved in the breeze on either side of the trail, and a few trees, too. The footprints all over the sandy trail were evidence that this is a very popular adventure.
Hiking by the numbers
There are various trails at Indiana Dunes State Park that involve climbing the dunes in addition to The 3 Dune Challenge, catering to a variety of ability levels—which is why it worked so well for my parents. They chose a trail that didn't require climbing the three dunes so they could hike at their own level and still end the day with the rest of us. The park has 16.5 miles of trails in total, and all offer spectacular scenery.
At the summit of each dune, Jacob and I took a moment to soak in the beauty of the sand, the beach far below us, and the sparkling water beyond. Mt. Tom, the tallest sand dune in Indiana Dunes State Park, has an elevation of 192 feet; Mt. Holden sits at 184 feet; and Mt. Jackson at 176 feet, so the views out to Lake Michigan were pretty impressive—we could see for miles. Standing on top of each dune was peaceful. I breathed the fresh air deeply and reveled in the quiet. All I could hear was the breeze in the grasses, the chirping of birds, and the click of Jacob's camera shutter. Each summit offered the perfect opportunity to get a few photos before we continued.
"Look at this," I said to Jacob as we reached the top of the first dune, "See how the deep blue of the sky and the bright blue water create a stunning view? You don't get to see this bird's-eye view very often."
"I already got a photo, Mom!" laughed Jacob. "This place is awesome. It looks like we're on top of the world."
Not all who wander are lost...
When Jacob and I completed our hike, Matt and Noah were waiting for us at the campground next to the Nature Center. We all basked in the glow of accomplishing what, to each of us, was a very personal encounter. Matt and Noah were in it for the exercise and to attempt a land-speed record. Jacob and I had focused on nature appreciation. We rewarded everyone's hard work with T-shirts and a postcard to mark our accomplishments. But we also had our memories and a new challenge for the next year.
"I never knew how tricky these dune trails could be until we ran them," said my husband.
"But you completed it, and that's a huge accomplishment! Keeping up with Noah is no small task." I reminded him. He grinned modestly, but I could tell that he was pleased at the compliment.
Wrapping up a great day!
We took the marked shortcut trail that descends between Mt. Tom and Mt. Holden to arrive on the sugar sand beach where my parents were relaxing after their hike down. We ended the day with a picnic and a swim in the gentle waves of Lake Michigan. Matt and Noah had finished their race neck-in-neck and had agreed to call it a tie, though they both wanted to plan a re-match. Jacob was eager to show off some of his favorite view-from-the-top pictures of the lake to my parents, and I smiled at the enthusiasm bubbling out of each member of the family. I asked my dad how their day had been.
"Getting off the beaten path was great," he replied with a smile glancing over at my mom. "We had a blast! And now we can spend the rest of the day with all of you."
"Sounds good!!" I said with a smile back.
Indiana Dunes had provided a memorable day for all of us. Even though we had each experienced the dunes in a different way, our family now shared a really special collective memory. For me, that was priceless.
Learn more about Indiana Dunes' 3 Dune Challenge!