It's time to admit something a bit embarrassing. I've lived in Chesterton for a decade and have never stopped to visit the local Westchester Museum. I suppose it's sort of like how Chicago natives have never been to the top of the Sears/Willis Tower or New Yorkers have never been to the Statue of Liberty. Even though a treasure sits right at home, you just never make the time to see it.
Armed with a little extra time last week, I decided to stop at the museum one afternoon and wasn't disappointed. I was greeted by Joan, a volunteer who walked me through the museum to tell me its history. Housed in the historic Brown Mansion, the Westchester Township Museum is a relic itself, furnished to the time period in which it was built. The addition to the building is a small gift shop and museum.
Some things I LOVED:
The original details still with the house are special. Stained glass windows, little architectural features, and oh my goodness, the Audubon print in the dining room is gorgeous!
A couple of original Frank Dudley paintings over the fireplaces were a lovely connection to the dunes.
The giant grandfather clock in the sitting room chimes at the quarter hour, and it's tone is beautiful. 
You can tour the entire house with a guide, even the upstairs bedrooms currently converted into offices for the museum.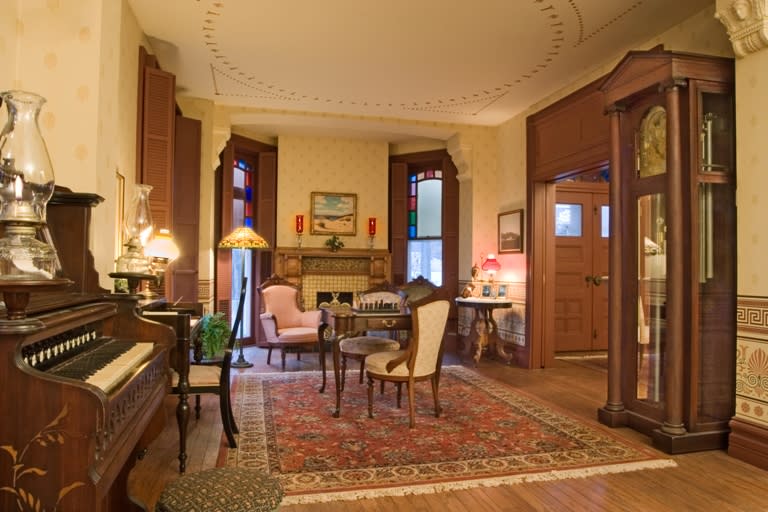 The gift shop is a hidden gem of Indiana Dunes items! I'm pretty sure I can get all of my Christmas shopping done here this year. South Shore Line posters, kids toys, postcards, Indiana Dunes books, mugs - so much to choose from. 
Finally, I enjoyed the kid-friendly exhibits, too. It was really neat to see the local history laid out as a timeline that wrapped around the room. I learned some things that I didn't know about the area, and I think it's worth visiting whether you're a resident or tourist.
But my final, favorite part of the visit? When I was done browsing, Joan (my guide) walked me out the front door with an invitation to return, as if it was her own home and I was a true guest. When was the last time you visited a museum with personalized attention like that?!
For more information on the Westchester Township Museum and the historic Brown Mansion, check out our video in our Three Interesting Things series: