Bison Vet Day may be one of the most important days at Kankakee Sands each year. Certainly, it is by far one of the most emotional – for humans and for bison. Inside each Bison Vet Day are profound emotions of anxiety, awe, exhilaration and relief.
Months of work have gone into the preparation for this one day: building of new corral pens and observation towers, meetings with TNC Bison Managers from across the United States, conversations with the InterTribal Buffalo Council (ITBC), coordination with veterinarians from the Indianapolis Zoo, our Bison Manager Olivia Schouten poring for hours over spreadsheets and genetic data, and mentally, emotionally and physically preparing to work with the 111 bison of our Kankakee Sand bison herd.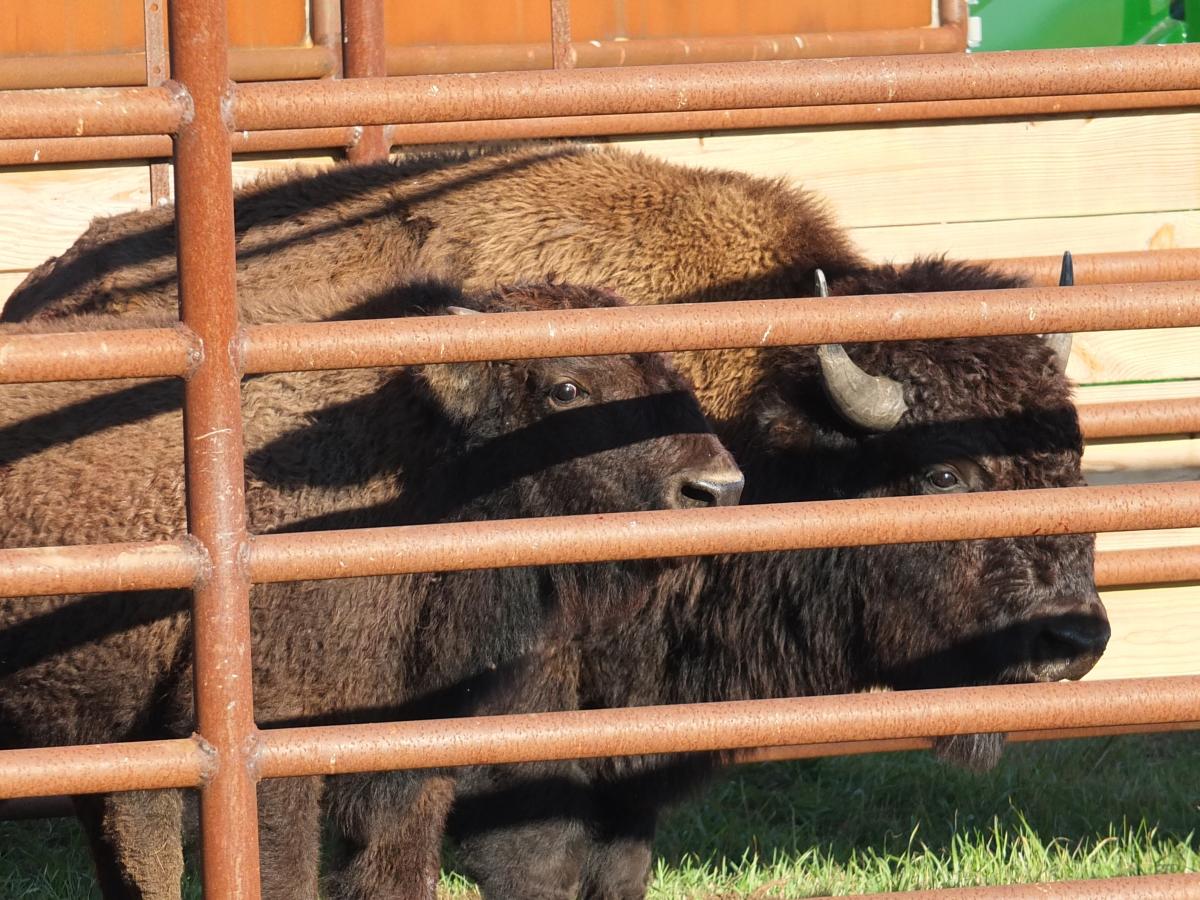 The early morning of Wednesday, October 26, was hushed. A light drizzle and fog encircled us as we waited for Bison Vet Day to begin. Our language was one of whispers, hand gestures, and facial expressions. Around us, we could hear the muffled sounds of 100 bison in the corral – their deep breathing, hoofs churning up the sand, bodies rubbing against bodies. Over the radios we hear – "2 to 1 ready, squeeze chute read, data team ready, vet team ready." It felt as though we all – humans and bison – took a collective breath. It was then that the first bison came running wild-eyed into the squeeze chute and skidded to an abrupt stop with a snort, stare, and stomp. 
Once a bison is on the scale and secured in the squeeze chute, the vet team and data team work together as quickly and quietly as possible to record data on the individual – note weight, confirm gender, check ear tags and microchip data, pull tail hairs for genetic testing, administer vaccinations, record injuries, treat wounds if needed, reference the listing of individuals who will remain at Kankakee Sands, and those who will be removed to maintain an appropriate herd size. All this happens in approximately 90 seconds. Feels like a lifetime when the 1000-pound bull bison is in the squeeze chute, steam rising from its nostrils and its sides heaving with each breath, but it's just 90 seconds. 
And then the doors of the chute are opened, and the bison leaps out, all four legs off the ground, a thousand pounds airborne for an instant – before it touches the earth and then runs down the alleyway and out onto the Kankakee Sands pasture, getting as far away from us as quickly as it possibly can. And so it goes for eight hours, bison after bison after bison, until Olivia calls over the radio – "last bison coming down the chute". Then it's over. We are momentarily frozen, blinking, muscles finally relaxing; then come the smiles and quiet nods and the deep long breath.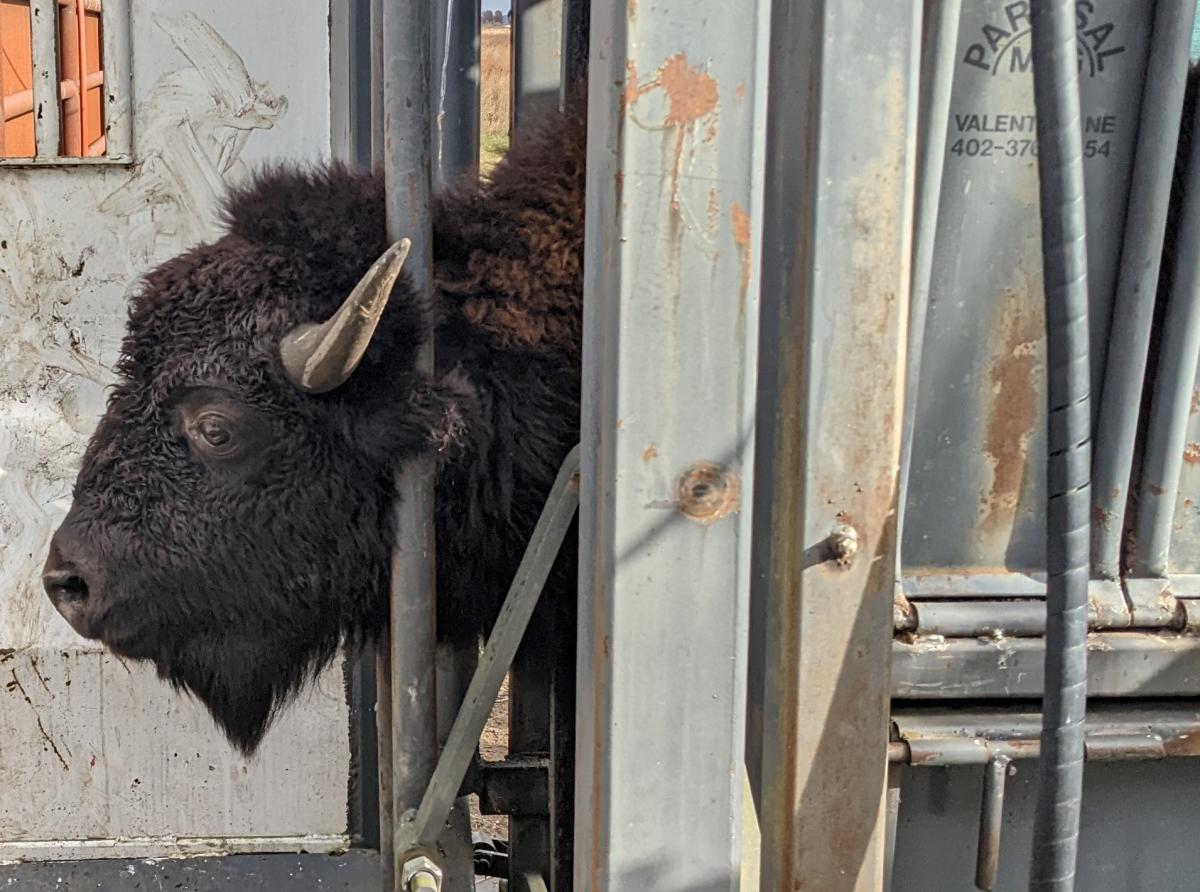 This year we are humbled and honored to share 21 bison with the Forest County Potawatomi Community in Wisconsin, who are restoring bison to their land. We join twelve other Nature Conservancy chapters with bison herds in supporting the Intertribal Buffalo Council, Tanka Fund, and other Tribal Nations in their goal of bringing bison back to tribal stewardship. This year, 850 bison from TNC chapters will be restored to tribal lands and communities. 
Back at the office, we share a meal and review the day, thinking of ways to improve for next year, but always, always, with full respect and admiration for the bison that are a keystone species on our prairies here – shaping the land, the prairie, and ultimately, shaping us too. 
We are grateful to the ITBC for the opportunity to partner, to the Indianapolis Zoo Veterinary Team led by Jeff Proudfoot who have been providing veterinary expertise since the establishment of our herd in 2016, to our TNC Illinois partners who assist on this day, and to several volunteers who help make the day go more smoothly with their technical expertise.
Above all, we're grateful for the bison who quietly, purposefully, and strongly deepen our relationship with the natural world.  
About the InterTribal Buffalo Council
According to the ITBC website, it "is a federally chartered Tribal organization, formed in 1992 as a gathering of 17 Tribes. Today, it now has a membership of 79 Tribal Nations and growing every year, sharing a mission to restore buffalo to Indian Country to preserve our historical, cultural, traditional, and spiritual relationship for future generations. To reestablish healthy buffalo populations on Tribal lands is to reestablish hope for Indian people. Returning buffalo to Tribal lands will help to heal the land, the animal, and the spirit of Indian people."
About Kankakee Sands
The Nature Conservancy's Kankakee Sands is an 8,400-acre prairie and savanna habitat in Northwest Indiana, open every day of the year for public enjoyment. For more information about Kankakee Sands, visit www.nature.org/KankakeeSands or call the office at 219-285-2184.